Product News: Cleaning Products & Equipment
Kits help stop spread of influenza.
Press Release Summary: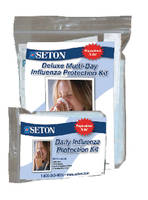 September 21, 2009 - Suited for factories, offices, and schools, Influenza Protection Kits meet basic precautionary steps advised by government and health officials to avoid spread of H1N1 and other influenza germs. Daily Influenza Protection Kit contains N95 mask, vinyl gloves, antimicrobial hand wipes, and infectious waste bag, while Deluxe Multi-Day Influenza Protection Kit contains 2 N95 masks, 4 face masks, 4 vinyl gloves, 1 hand sanitizer, 15 antimicrobial hand wipes, packet of tissues, and 4 thermometers.
Seton Identification Products - Branford, CT
Original Press Release
New Influenza Protection Kits
Press release date: September 15, 2009
Seton Identification Products offers two new Influenza Protection Kits for convenient use in factories, offices, schools and public places. OSHA has stated that as much as 40% of the workforce could be affected by the influenza pandemic. The CDC cites a number of practices that can reduce the spread of the virus; these include cleaning hands, covering the mouth and nose, and avoid touching the eyes, nose or mouth.

The kits have been developed to meet these basic precautionary steps advised by government and health officials to avoid the spread of the H1N1 (Swine Flu) and other influenza germs.

The Daily Influenza Protection Kit contains an N95 mask, vinyl gloves, antimicrobial hand wipes and an infectious waste bag.

A Deluxe Multi-Day Influenza Protection Kit contains 2 N95 masks, 4 Face masks with earloops, 4 Vinyl gloves, 1 Hand sanitizer 2oz., 15 Antimicrobial hand wipes, 1 Packet tissues and 4 Thermometers (single-use).

Seton also offers posters and signs to increase awareness of the steps to reduce the spread of the influenza virus.

To order these and other related products, go to seton.com/seton/spacecode/LB9/0.html?newSearchTerms=influenza or call 800-781-7325.

Seton is an international manufacturer of over 50,000 safety and facility identification products for manufacturing, construction, healthcare, education, municipal, telecommunication, electrical, and other markets.

Contact:
Jeff Lublin, Market Manager
Phone: 203-488-8059 ext 834909