Product News: Test & Measuring Instruments
IR Thermometer offers long range operation.
Press Release Summary: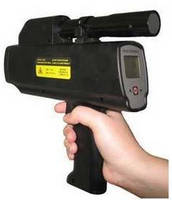 January 21, 2010 - Designed for use in electrical power generation and transmission industry, Model HSA300 features 300:1 optics, which provide 2 in. measurement spot at 50 ft. Peak temperature is displayed on large main display, while current temperature is displayed on smaller secondary display. Able to measure from 300 ft away, thermometer includes telescopic sight that allows precise positioning of measurement spot while maintaining safe distance from target.
Palmer Wahl Instrumentation Group - Asheville, NC
Original Press Release
Wahl Heat Spy® HSA300 Infrared Thermometer Model Number HSA300
Press release date: January 19, 2010
The Wahl HSA300 is a Long Range Infrared Thermometer designed for use in the Electrical Power Generation and Transmission Industry, as well as other applications that require measuring objects from a long distance.

The HSA300 has 300:1 optics which provide a 2-inch measurement spot at 50 feet. Peak temperature is displayed on the large main display easing the ability to capture the hot spot.

Current temperature is displayed on the smaller secondary display. Its telescopic sight allows precise positioning of the measurement spot, while maintaining a safe convenient distance from the target.
o Easy Scanning for Hot Spots
o 300 to 1 - Distance to Target Size Ratio
o Measures from 300 feet away

Call 1-800-421-2853 or e-mail us for specific availability.