IR Thermometer offers compact, lightweight design.
Press Release Summary: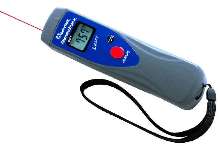 September 8, 2003 - Model 15030 ThermoTrace Infrared Thermometer has 8:1 field of view and pocket design that weighs 4.5 oz. Features include 0.1° resolution and laser targeting of spot area 4.9 in. in diameter at 3.3 ft. With -40 to +590°F temperature range, it is designed for instant, non-contact surface temperature measurement and is suited for measuring hot, hard-to-reach, or moving parts.
Original Press Release
DeltaTRAK Introduces Its New Pocket ThermoTrace® Infrared Thermometer
Press release date: August 15, 2003
PLEASANTON, CA - DeltaTRAK, Inc., a leader in the manufacture of portable test instruments for the HVAC/R, food, pharmaceutical, chemical, and other industries, announces a new addition to its family of Pocket ThermoTrace Infrared Thermometers with an 8:1 field of view, Model 15030, full featured, competitively priced. The unit is a quality temperature measuring tool, and is engineered with a sleek, compact pocket design weighing only 4.5 ounces (127 grams), about half the weight of comparable pistol-grip-style infrared thermometers. Other features include a tight 0.1° resolution, laser targeting of a spot area 4.9 inches (125mm) in diameter at 3.3 feet (1 meter), and a significantly broader temperature range of -40°F to 590°F/ -40°C to 310°C. It is designed for instant, non-contact surface temperature measurement, and is the safest way to measure hot, hard-to-reach, or moving parts. Its non-contact infrared technology also eliminates potential damage or contamination of products. The ThermoTrace Infrared Thermometer is NIST traceable and is CE marked.
Since 1989, DeltaTRAK has been manufacturing the highest quality portable test instruments and software that monitor and record temperature, humidity, and pH parameters. Products and services are sold worldwide to customers in over 40 countries. Headquartered in Pleasanton, California, DeltaTRAK also has R & D offices in San Diego, California, a manufacturing and distribution facility in Modesto, California, as well as an electronic assembly operation in Shenzhen, China. DeltaTRAK can be reached by calling 1-800-962-6776, or by email to salesinfo@deltatrak.com. Detailed product information is available at
www.deltatrak.com
.