IP Cameras capture license plates in dark environments.
Press Release Summary: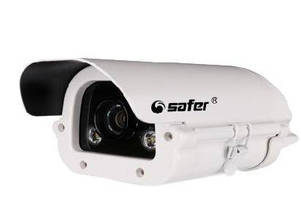 September 29, 2014 - Housed in outdoor weatherproof shell, 2.0 megapixel Models SF-SN327AZWQ-E1 and SF-SN327BZWQ-E1 are based on Sony IMX222 1/2.8 in. progressive scan CMOS image sensor. Units feature 1,920 x 1,080 high definition resolution, H.264 video compression format, and support for ONVIF protocol interface. For true color night vision, cameras are equipped with IR-CUT optical filter technology. Applications include parking toll gates and road gates.
Original Press Release
Safer Launches IP License Plate Camera
Press release date: September 22, 2014
After long development and testing, the Safer (
http://www.safer.net.cn/
) IP license plate cameras we have been expected finally meet with you.  
(To protect privacy, we hide part of the license plate information away)
There are two kinds of license plate IP HD cameras. They are 37A and 37B with the whole model SF-SN327AZWQ-E1 (
http://www.safer.net.cn/product-detail-333.html
) and SF-SN327BZWQ-E1 (
http://www.safer.net.cn/product-detail-335.html
). Both of them adopt outdoor classic weatherproof shell.
The core component of the license plate capture IP cameras is 2.0 megapixel ultra low-light illumination Sony IMX222 sensors with 1/2.8' ultra size. These data are very favorable parameters for license plate camera, and help us see more clearly and larger image in darker environments. Meanwhile, the camera processors with Hi3516C chip guarantee the cameras' effects of image and network transmission, video coding, etc. key index.
Except the high-definition of the new license plate capture cameras, we also focus on the feature of car headlights at night, and make light inhibition treatment especially in the software. That keeps the oncoming car headlights from inhibited effectively, and capture license plate more clearly. For the car headlights at night, the cameras are equipped with two dot-matrix white lights. That makes special treatment on various parameters such as light intensity and the angle.  
The network HD license plate cameras suit for parking toll gate, road gates and other places, also suit for low speed driving or vehicle license plate information recording in static scenes.
Safer (
http://www.safer.net.cn
) has a wealth of experience and great products in the CCTV license plate cameras. The launch of two high-definition network license plate cameras is just a good start. We will then develop more and better related products.