Inventory Software manages stock by category, location, and supplier.
Press Release Summary: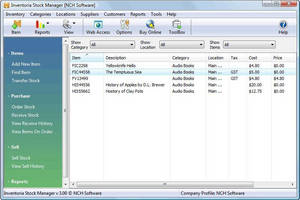 January 5, 2010 - Inventoria professional stock management software allows inventory management in one or several locations and generates purchase orders to send directly to vendor. Windows-based program enables users to categorize items, set low-level stock warnings to alert them to reorder, execute/record stock transfers between locations, and maintain database of suppliers/customers. Reporting includes inventory levels and location and program also simplifies automation of recurring orders.
Original Press Release
New/Updated Software: Inventoria Professional Stock Control v3.02
Press release date: December 10, 2009
DENVER, CO - NCH Software, the leading provider of audio, video, business process, VoIP tools and utilities worldwide, today announced the mainstream availability of Inventoria, professional stock management software that enables inventory management in just one or several locations, and generates purchase orders to be sent directly to a vendor.
Inventoria now promises ease of use for all businesses.
Inventoria, a Windows-based program, is used to manage stock levels by categories, location and supplier. Reporting includes overall inventory levels and inventory by location. Users can categorize items, set low-level stock warnings to alert them to reorder, execute and record stock transfers between locations with a few clicks, and maintain a database of suppliers and customers. Recurring orders are also easy to automate.
Inventoria can be used with NCH's Express Invoice, which automatically adjusts the volume of stock when the invoice is sent out.
"It's perfect for people selling products on the Internet," said Peter Lupton, CEO of NCH. "Because it's scalable, you don't have to commit to something that won't grow with you."
In just the month of November, there were 2,467 early adopters and testers of Inventoria. They ranged from Internet businesses to traditional small retailers. NCH's policy on new program releases is to have early adopters use the program and give feedback for improvement.
"The feedback process helps us meet the real needs of our customers," Lupton said. "I'm confident that 90 percent of customers would have Inventoria installed and working in three minutes."
For a low-cost, complete business management solution, combine Inventoria with business applications such as Express Accounts professional accounting software, HourGuard timesheet recorder and FlexiServer employee management software.
About NCH Software
NCH Software offers more than 80 easy-to-use audio, video, business, and telephony/VoIP software solutions that improve productivity and usability for small businesses and consumers. Focused on specific needs, they produce software with all the bells and whistles of typical brands, but without the complexity. NCH Software provides users with what they need at a price they can afford. This approach generates more than four million unique visitors and nearly three million downloads per month from the company's website - NCH Software.
Contact Support Support at submissions@nchsoftware.com to get more information. A registration key is available upon request to all testers considering a review.
Product page link:
www.nchsoftware.com/inventory/index.html
Download link:
www.nch.com.au/components/invsetup.exe
(0.47 Mb)
Screenshot: http://www.nchsoftware.com/inventory/screenshots/main.gif
PAD File: http://www.nch.com.au/pad/inventory.xml
Company website:
www.nchsoftware.com/inventory/index.html