Interface Software enables integration of multiple analyzers.
Press Release Summary: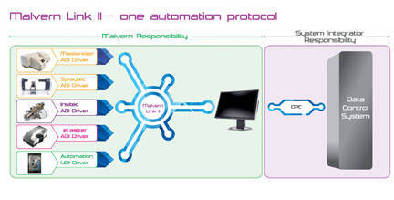 January 22, 2013 - Equipped with drivers that provide single interface for Mastersizer 2000, Mastersizer 3000, and Zetasizer Nano analyzers, Malvern Link II software permits secure connection with all types of automated control systems, including DCS, SCADA, and PLC. Through interface, users can establish automated monitoring and rapidly implement closed loop control with minimal expert engineering input.
Malvern Instruments Ltd - Malvern Worcestershire, GBR
Original Press Release
Integrating Analyzers with Ease: New Developments Extend the Benefits of Malvern Link II
Press release date: January 17, 2013
Malvern, UK: Malvern Instruments has added new functionality to its Malvern Link II product, the powerful software package that enables the integration of multiple analyzers within an automated control platform. The latest developments extend the benefits of Malvern Link II to the company's Mastersizer and Zetasizer analyzer ranges, streamlining their use for applications in process monitoring and control.
New drivers in Malvern Link II provide a single interface for the Mastersizer 2000, Mastersizer 3000 and the Zetasizer Nano systems, permitting their secure and efficient connection with all types of automated control systems, including DCS, Scada and PLC. Through this single interface users can establish automated monitoring and rapidly implement efficient closed loop control with minimal expert engineering input. This reduces barriers to automation and helps maximize the economic return on investment in analysis.
"Healthy order numbers suggest that the proven ability of Malvern Link II to enable analyzer integration by those without significant control/automation expertise gives it broad appeal across the manufacturing industries," remarks Gerard Michel, Senior Automation Engineer who has played a lead role in developing the new software."We're delighted to have the new drivers available to help more people with this issue and make it simpler for people for use our analyzers efficiently for process monitoring"
Having the ability to fully exploit the data produced by any analyzer is the key to optimizing its value. Increasingly this means embedding it within an automated control system, often alongside other instrumentation, to implement multi-variate control. Historically such integration has been an expert task and the significant attendant costs have tended to inhibit uptake.
Malvern Link II is widely used to integrate the Insitec process particle sizer within manufacturing plant and it is positive feedback from this that has stimulated its extension to other instruments in the Malvern range. The Zetasizer Nano is the world's most widely used system for nanoparticle, colloid and protein size, zeta potential and molecular weight measurements while the Mastersizer 3000 is the latest generation of Malvern's highly successful laser diffraction particle sizing system. The new drivers act as a bridge between the analyzer and the control system and are already  being used to address water monitoring applications (Zetasizer) and cement measurement within the automated laboratory setting (Mastersizer).
www.malvern.com
Malvern, Malvern Instruments, Mastersizer, Zetasizer and Insitec are registered trademarks and Malvern Link is a trademark of Malvern Instruments
About Malvern Instruments
Malvern Instruments is a market leader in measuring performance controlling material properties. These include particle size, particle shape, zeta potential, molecular weight, size and conformation, rheological properties and chemical identification. Malvern delivers the systems, support and expertise that ensure the analytical integrity and productivity needed to drive research, development and manufacturing.
Malvern's measurement solutions for scientists, technologists and engineers advance continually through customer collaboration. Complementary materials characterization systems deliver inter-related measurements that reflect the complexities of particulates and disperse systems, nanomaterials and macromolecules. Combining intelligently implemented technologies with in-depth industry applications knowledge and support, Malvern provides customers with the competitive advantage they demand.
Headquartered in Malvern, UK, Malvern Instruments has subsidiary organizations in all major European markets, North America, China, Japan and Korea, a joint venture in India, a global distributor network and applications laboratories around the world.
www.malvern.com
Facebook: MalvernInstruments
Blog:
www.materials-talks.com
Youtube: malverninstruments
Linked-In: malvern-instruments
Twitter: malvern_news
USA contact:
Marisa Fraser, Malvern Instruments Inc.
117 Flanders Road, Westborough, MA 01581-1042  USA
Tel:  +1 508 768 6400 Fax: +1 508 768 6403  marisa.fraser@malvern.com
Please send sales enquiries to:
Alison Vines, Malvern Instruments Ltd
Enigma Business Park, Grovewood Road, Malvern, Worcestershire WR14 1XZ  UK
Tel: +44 (0) 1684 892456; Fax: +44 (0) 1684 892789
salesinfo@malvern.com