Intelligent Robot incorporates force and vision sensors.
Press Release Summary: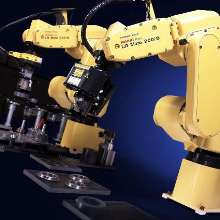 September 27, 2004 - Available with various reach and payload capabilities, 6-axis Intelligent Robot is operated via i Pendant, with integrated Web browser and optional touch-panel screen. Series includes robot, force and/or vision sensor, and process software. Equipped with 3-D laser vision sensor, robot can pick component and assemble it to subassembly in any orientation. Applications include mechanical assembly, material removal, deracking, and bin picking.
Original Press Release
FANUC Robotics Demonstrates The Powerful Processing Capabilities of Its Intelligent Robots with Force and Vision Sensors at IMTS 2004
Press release date: September 8, 2004
ROCHESTER HILLS, Mich., Sept. 8, 2004 - FANUC Robotics' Intelligent Robots with integrated vision and force sensors are designed for a wide range of precision applications including mechanical assembly (clutch, valve, bearing and shaft insertion), material removal, de-racking, bin picking and material handling. Intelligent Robot demonstrations for bin picking, valve insertion, part transfer, and assembly will be showcased during IMTS 2004 at McCormick Place in Chicago, Sept. 8-15, in the Emerging Technology Center.
Intelligent Robot
The Intelligent Robot is available with a wide range of reach and payload capabilities to meet a variety of application requirements. Featuring vision and force sensing capabilities, the family of six-axis Intelligent Robots is easy to program and operate with the latest i Pendant featuring an integrated Web browser and optional Touch Panel screen. The series includes a standard FANUC robot, FANUC force and/or vision sensor and advanced process software.
"Until now, robotic assembly has been dominated by assembly applications using SCARA robots," said Ranganath Misra, FANUC Robotics' staff engineer for material handling products and applications. "Our articulated Intelligent Robot with the six degrees of freedom (6 DOF) force sensor provides unprecedented flexibility for a variety of assembly operations."
"In addition, FANUC's integrated 3-D laser vision sensor provides the capability to pick a component and assemble it to a sub-assembly in any orientation. Compared to other robot suppliers that use third party sensors, we offer our customers unique integrated process solutions that simplify sensor setup, calibration and application programming," said Misra.
IMTS Demonstrations with Intelligent Robots
Intelligent bin picking system -- A FANUC M-16iB Intelligent Robot equipped with FANUC's V-500iA/3DL laser vision sensor and bin picking software will demonstrate bin picking of powertrain components.
A typical 3-D vision application finds the location and orientation of discrete parts in a known field of view. In bin picking applications, parts are often randomly piled in a bin, so while the bin can be located within known limits, the parts cannot. There are several challenges associated with bin picking applications, including: the tool or camera can interfere with the bin; picking parts in any orientation from the top down; handling overlapped parts; and avoiding or separating entangled parts.
Intelligent valve insertion system - A FANUC M-16iB Intelligent Robot equipped with FANUC's V-500iA/3DL laser vision sensor and FS-30 force sensor will demonstrate valve insertion to a six-cylinder engine head.
The robot mounted 3-D laser vision sensor will identify and locate loosely placed intake and exhaust valves from a valve station. The robot will pickup one intake or exhaust valve at a time and use force control to insert it into the respective port of the engine head.
Intelligent assembly system - Two FANUC LR Mate 200iB Intelligent Robots equipped with FANUC's V-500iA/2DV and V-500iA/3DV vision sensors, and FS-30 force sensor will demonstrate assembly of a FANUC ROBOCUT Wire Feeder Unit. The robots will work together to perform insertion of rollers, and assembly of gears and camshafts.
"Traditional robots are not able to do these types of operations," said Misra. "Our Intelligent Robot series has opened up many possibilities for robots to cost-effectively handle a wide range of precision assembly applications."
Intelligent material handling/removal system - The new M-900iA/350 robot, equipped with FANUC's unique V-500iA/3DL 3-D vision technology, will select and transfer an automotive engine block from an overhead conveyor. The M-900iA/350 will present the part to a FANUC F-200iB pedestal robot, which will simulate rough deflashing.
Intelligent part transfer system - The M-16iB/20T robot, equipped with FANUC's V-500iA/2DV vision sensor will locate and pick randomly oriented camshafts from an input pallet. The robot will then load and unload the camshafts to and from simulated CNC grinding machines, and transfer finished camshafts to a shipping carton.
Intelligent, high-speed part handling - The M-420iA, equipped with FANUC's V-500iA/2DV vision sensor, will demonstrate the advantages of using visual line tracking to pick and transfer randomly placed connecting rods at high speeds. Visual line tracking provides the flexibility to handle multiple parts on the same automation line, eliminating the need for costly fixtures, and reducing changeover time.
FANUC Robotics America, Inc. designs, engineers and manufactures innovative robots and robotic systems for a wide range of industries and applications including arc and spot welding, material handling (machine tending, palletizing, packing), material removal, assembly, paint finishing and dispensing. The company also provides application-specific software, controls, vision products, and complete aftermarket support. After 22 years of success, FANUC Robotics maintains its position as the leading robotics company in the Americas. A subsidiary of FANUC LTD in Japan, the company has facilities in Chicago; Los Angeles; Charlotte, N.C.; Cincinnati and Toledo, Ohio; Toronto; Montreal; Aguascalientes, Mexico; and Sao Paulo, Brazil. FANUC Robotics can be found on the Internet at
www.fanucrobotics.com
or by calling 800-47-ROBOT.