Product News: Electrical Equipment & Systems
Integral Separable Connectors accommodate multiple cables.
Press Release Summary: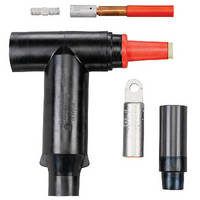 January 24, 2013 - By accommodating multiple cables, Elastimold® ComboT™ Integral Separable Connectors provide short elbow stack height and eliminate need to modify or replace entire enclosures. Units also eliminate blind assembly and minimize chance of cross threading. Using standard 600- or 900-series studs, connectors are installed with standard assembly tools. Products feature red provider backbone transport interfaces for 15 kV reducing taps and blue for 25 kV reducing taps in compliance with IEEE 386.
Original Press Release
Elastimold® ComboT(TM) Integral Separable Connectors Provide Industry's Shortest Elbow Stack Height
Press release date: January 22, 2013
Thomas & Betts' Product Accommodates Multiple Cables In One Connector

MEMPHIS, Tenn., – Elastimold® ComboT™ Integral Separable Connectors from Thomas & Betts accommodates multiple cables in one connector, providing the shortest elbow stack height in the industry and eliminating the need to modify or replace entire enclosures.

As loads grow in underground distribution systems, so does the necessity to connect two underground power cables to one common connection point within existing switchgear. Most of these connections use two 600-amp T-body elbows stacked one behind the other, which occupies more space in the switchgear cabinet. Often, there is not enough space to accommodate the additional connectors, which leads to costly modifications to the switchgear cabinet and vault, if not replacement.

"The new Elastimold® ComboT™ Integral Separable Connectors save about three inches of space in switchgear cabinets by connecting multiple cables with one piece," said Chad Smith, director, product management for Thomas & Betts. "Utilities can make use of the full capacity of existing gear without being limited by connection clearance."

An additional benefit is more operating clearance for linemen in vaults, which makes installation safer and more effective. The Elastimold® ComboT™ Integral Separable Connectors' design, which features a simple connection system with fewer interfaces, eliminates blind assembly and minimizes the chance of cross threading. Using standard 600- or 900-series studs, it is installed with standard assembly tools. Its internal hex broach ensures the proper installation torque. The Elastimold® ComboT™ Integral Separable Connectors' simplicity reduces installation time and the risk of costly installation errors. 

Elastimold® ComboT™ Integral Separable Connectors feature red provider backbone transport (PBT) interfaces for 15kV reducing taps and blue for 25 kV reducing taps in compliance with IEEE 386. The 25-kV reducing taps are vented to prevent partial-vacuum flashover.

Thomas & Betts Corporation, a member of the ABB Group, is a global leader in the design, manufacture and marketing of essential components used to manage the connection, distribution, transmission and reliability of electrical power in utility, industrial, commercial, and residential applications. With a portfolio of more than 200,000 products marketed under more than 45 premium brand names, Thomas & Betts products are found wherever electricity is used. Thomas & Betts' headquarters are in Memphis, Tenn. For more information, please visit www.tnb.com