Product News: Material Handling & Storage
Instrument Grade System Racks offer core ATE building blocks.
Press Release Summary: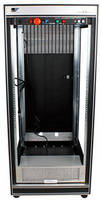 April 30, 2014 - Providing ATE architects with necessary building blocks, CMX-9138 comes with power distribution, cooling fans, filtering, shelves, and blanking panels. This 42U, pre-engineered ATE system rack, meeting precision instrumentation needs, includes power control to ensure safety of instruments and UUTs, vented rear door with lock, and locking, removable side panels. Other features include power strips/PDU, bus-bar with single point grounding, and selectable, pre-installed cooling system.
Original Press Release
Pre-Configured Instrument Grade System Racks Provide Time-Saving ATE Core Building Blocks
Press release date: April 22, 2014
Irvine, CA – VTI is pleased to introduce the CMX-9138 - part of its creatEX series of 42U pre-engineered ATE system racks that come complete with power distribution, cooling fans, filtering, shelves, and blanking panels. CreatEX configurations provide ATE architects core building blocks wrapped into one part number, saving considerable time, money and documentation.
The CMX-9138 leverages VTI's experience as both an instrument provider and system integrator to produce the optimal rack assembly for precision instrumentation needs.
The CMX-9138 configuration includes the following:
Power Control: ensures safety of instruments and UUTs
Rear door with lock, vented for optimized air-flow
Locking, removable side panels to simplify equipment installation and cabling
Power strips/PDU simplify power routing to instruments
Bus-bar with single point grounding
Selectable, pre-installed cooling system
Heavy-duty caster for portability
Users also have the option of adding any of the following to their rack systems:
Blowers
Mass Interconnect/Receiver Interfaces
Manufactured cable assemblies switching and accessories
For more information on the CMX-9138, please visit our CMX-9138 page
For more information about other Racks and Enclosures please visit our Racks and Enclosures page
About VTI Instruments
VTI Instruments delivers precision modular instrumentation and systems for electronic signal distribution, acquisition, and monitoring, used in the world's most demanding test applications. The company's products and systems are used to monitor and record data that characterizes the physical integrity and performance of aircraft, engines, and other large structures, as well as automate the functional testing of complex electronic systems.
VTI is recognized as an industry leader with a reputation of providing reliable data, first time, every time. A sustained focus on innovation and technology enables VTIs customers to optimize their capital investment through product longevity, while ensuring unmatched measurement integrity and data reliability.
VTI Instruments is a unit of AMETEK, Inc., a leading global manufacturer of electronic instruments and electromechanical devices.
Contact Us:
VTI Sales
sales@vtiinstruments.com
, (949)955-1894