Instrument Control Software aids chromatographers.
Press Release Summary: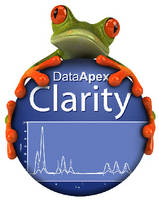 July 6, 2012 - Controlling more than 350 instruments from more than 40 vendors, Clarity v4.0 includes DHA extension for Detailed Hydrocarbon Analysis, support for bar code readers, and enhancements to peak integration. Program offers control modules for Young Lin YL6500 GC, Spark SPH 1240 pumps, Cetac AS800 autosampler, Altech ELSD 3300, and Ecom Flash DAD. Using Agilent ICF platform, control modules for Agilent HPLC 1100/1200/1260/1290 series have been completely reprogrammed.
Original Press Release
Clarity 4.0 -New Possibilities for Chromatographers
Press release date: June 25, 2012
DataApex is pleased to announce that the new Clarity version 4.0 has been released last week. It opens new possibilities thanks to the many new features and control modules that have been implemented. Chromatographers can now utilize a DHA extension for Detailed Hydrocarbon Analysis, new support for bar code readers, enhancements to peak integration etc. DataApex added control modules for Young Lin YL6500 GC, Spark SPH 1240 pumps, Cetac AS800 autosampler, Altech ELSD 3300, Ecom Flash DAD. Control modules for Agilent HPLC 1100/1200/1260/1290 series have been completely reprogrammed using the latest Agilent ICF platform. Clarity currently controls more than 350 instruments from more than 40 vendors and provides users with high flexibility in connecting wide range of instruments. And finally, last but not least, Clarity 4.0 expands the portfolio of Clarity localizations by adding Spanish and German versions. Clarity is now available in 4 languages (English, Chinese, German and Spanish) and one more is to come soon. DataApex follows its commitment and offers free of charge SW updates to all Clarity users. Anyone can download a free demonstration version from DataApex website. DataApex Chromatography Softwares have a strong position in the chromatography data systems market. DataApex products are highly regarded for its intuitive approach, excellent performance, cost-effectiveness and proficient technical support. DataApex is solely focused on chromatography software development. A strong emphasis is placed on technological innovation, visionary adoption of new laboratory standards, best practices and extensive customer support. DataApex products are sold in over 70 countries around the world. Ten chromatography instrument manufacturers privately resell labeled versions of DataApex's software. The current version of Clarity is the third generation of DataApex's chromatography software. To obtain further information about DataApex Clarity products please contact us at clarity@dataapex.com or visit
www.dataapex.com