Product News: Adhesives & Sealants
Instant Adhesives withstand humidity, temperatures to 200°F.
Press Release Summary: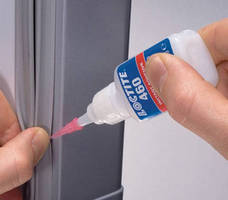 November 30, 2012 - Comprised of low-odor, low-bloom adhesives, Loctite® 403™/408™/455™/460™ minimize frosting near bond line and provide bond strengths of 2,600 psi on dry or acidic surfaces. Loctite 403 medium-viscosity cyanoacrylate adhesive fills gaps to 0.008 in.; water-thin, wicking grade Loctite 408 fill gaps as small as 0.002 in.; low-viscosity Loctite 460 works on close-fitting parts with gaps up to 0.004 in.; and Loctite 455 non-drip gel, intended for porous surfaces, fills gaps to 0.010 in.
Original Press Release
Low Odor, Low Bloom Instant Adhesives Withstand High Temps, Humidity
Press release date: November 16, 2012
Cyanoacrylates Provide Clean Aesthetics and Maintain High Bond Strength at 200ºF

Rocky Hill, Conn. -- The latest upgrades to low odor, low bloom Loctite® Instant Adhesives from Henkel Corporation maintain bond strength in high-humidity environments while delivering temperature resistance to 200ºF. Virtually free of pungent odors, Loctite® 403™, Loctite® 408™, Loctite® 455™ and Loctite® 460™ low odor, low bloom instant adhesives minimize frosting near the bond line, maintain fast fixture speeds, and provide bond strengths of 2600 psi on dry or acidic surfaces.

The four upgraded low odor, low bloom Loctite® Instant Adhesives are ideal for applications where the aesthetics of the end product are critical. Low odor, low bloom instant adhesives minimize the frosty, white film that sometimes develops near the bond line of traditional instant adhesives, and offer a reduced chemical smell for work in confined spaces or areas with low air flow. Loctite® low odor, low bloom products are available for gap filling, wicking into tiny spaces, bonding porous surfaces, and bonding close-fitting parts. All four products resist temperatures to 200ºF, cure on dry or acidic surfaces, and bond to a wide range of substrate materials.

Each of the four upgraded low odor, low bloom Loctite® Instant Adhesives are formulated to cover a range of assembly requirements. Loctite® 403™ is a medium-viscosity cyanoacrylate adhesive that fills gaps to 0.008 inches, while Loctite® 408™ is a water-thin wicking grade adhesive designed to fill gaps as small as 0.002 inches. Loctite® 460™ is a low-viscosity grade specifically formulated to work on close-fitting parts with gaps up to 0.004 inches. Ideal for porous surfaces, Loctite® 455™ is a non-drip gel that fills gaps to 0.010 inches. All four grades provide shear strength to 2600 psi.

Henkel has created a detailed product brochure and website to provide information on the complete Loctite® Instant Adhesive line. For more information and to download a copy of the brochure, go to the new www.loctiteinstantadhesives.com website.

For additional information on Henkel and Loctite®, go to youtube.com/loctite to watch Loctite Instant Adhesive Solutions for Your Assembly Challenges, join Henkel on Facebook at facebook.com/loctite, and follow Henkel on Twitter at twitter.com/loctite_na for instant access to new #loctitesolutions.

Henkel operates worldwide with leading brands and technologies in three business areas: Laundry & Home Care, Beauty Care and Adhesive Technologies. Founded in 1876, Henkel holds globally leading market positions both in the consumer and industrial businesses with well-known brands such as Persil, Schwarzkopf and Loctite. Henkel employs about 47,000 people and reported sales of $21.7 billion and adjusted operating profit of $2.8 billion in fiscal 2011. Henkel's preferred shares are listed in the German stock index DAX.

Contact
Paula Zakrzewski Shepard
Image Ink Public Relations
Tel: 860-228-8056
imageinkpr@aol.com

Henkel Corporation
Engineering Adhesives
One Henkel Way
Rocky Hill, CT 06067
Tel: 1-800-LOCTITE (562-8483)
Tel: 860-571-5100
www.henkelna.com/industrial