Product News: Computer Hardware & Peripherals
Inks are formulated for Marsh® ink jet printers.
Press Release Summary: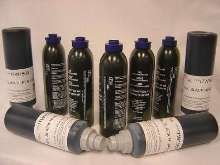 July 22, 2004 - ITW Inks include water-, alcohol-, and solvent-based inks and cleaners, along with MEK inks and cleaners, and high-resolution inks. They are available for Marsh printers, Unicorn printers, valve systems, and porous and non-porous surfaces. Offered in bottles, pails, or cartridges, inks features sub-micron filtration and are fully inspected.
Diagraph - An ITW Company - Saint Charles, MO
Original Press Release
Introducing ITW Inks From Diagraph® Formulated For Use In Marsh® Ink Jet Printers
Press release date: July 21, 2004
St. Charles...Diagraph, An ITW Company, announces the addition of ITW Inks to its wide range product offering. Formulated for use in Marsh Ink Jet Printers, ITW Inks provide a cost-effective ink alternative that is low on price and high on value.
For selecting the appropriate ITW Ink, Diagraph offers an ITW Inks Reference Guide for Marsh Printers, which provides an easy-to-understand cross-reference tool for identifying the ITW Ink part number for the Marsh equivalent. Offered are water-based inks & cleaners, alcohol-based inks & cleaners, solvent-based inks & cleaners, MEK inks & cleaners, high-resolution ink, ink cartridges & cleaners. ITW Inks can be used with the following Marsh equipment: Dli, ML8, ML4, Patrion Plus®, Marsh Encore®, and Unicorn® ink jet printers.
Quality Consistent performance of ink jet printers is vital to a manufacturer's production line operation, so they need quality inks that deliver sharp bar codes and text messages time after time, year after year. That is exactly what ITW Inks delivers.
o A variety of inks for Marsh models/printheads o Inks for valve systems and Unicorn printers o Inks for porous and non-porous surfaces o High-resolution inks for special applications o Sub-micron filtration assures quality control o Fully inspected to ensure consistent quality o Available in bottles, pails, or cartridges
Value While ink quality is vital to the successful operation of an ink jet printer, controlling costs is just as important. ITW Inks provides the quality needed, and the value wanted.
o ITW is a world leader in ink jet technology & products o Low price/high value is an ITW core philosophy o Competitive lead times and deliveries
When requiring ink for Marsh Printers, the smart choice is simple with ITW Inks. For a FREE ITW Inks Reference Guide or more information on ITW Inks, please contact ITW Inks Account Manager Cathy Malan at 877-DIAGRAPH (342-4727) or visit our website
www.itw-inks.com
.
Diagraph, an innovator in product identification technology for 110 years, manufactures and distributes marking, coding and labeling systems and supplies. Diagraph offers a complete line of bar code printing systems; small character ink jet, large character ink jet and high-resolution ink jet systems; label printer-applicators and label applicators; thermal transfer label printers; stock and custom labels; labeling consumables; and traditional marking and stenciling equipment and supplies. Diagraph is a global supplier, with sales and service offices located across the United States and throughout the world.
MARSH, UNICORN, MARSH ENCORE and PATRION PLUS are registered trademarks of Videojet Technologies/Danaher Corporation.
DIAGRAPH is a registered trademark of Illinois Tool Works Inc.