Product News: Computer Hardware & Peripherals
InGaAs SWIR Uncooled Video Camera has Mil-hardened design.
Press Release Summary: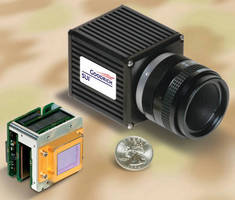 September 1, 2010 - Imaging through atmospheric obscurants such as fog, haze, and smoke, SU640HSX offers 0.9-1.7 µm sensitivity in SWIR as well as optional NIR/SWIR extended spectral range sensitivity of 0.7-1.7 µm. Solid-state imager, with 640 x 512 pixel format and 25 micron pitch, operates from -40 to +70°C and consumes less than 2.7 W at 20°C. Capabilities enable real-time daylight to low-light imaging in SWIR for 24/7 passive surveillance and laser detection.
UTC Aerospace Systems - Charlotte, NC
Original Press Release
Goodrich Announces High Sensitivity 640x512 Resolution InGaAs SWIR Mil-Hardened Video Camera
Press release date: August 20, 2010
Featuring the highest sensitivity available in SWIR (0.9 µm to 1.7 µm) cameras and in the optional NIR/SWIR extended spectral range (0.7 µm to 1.7 µm).

PRINCETON, NJ--Goodrich Corporation's ISR Systems Princeton team (formerly Sensors Unlimited, Inc.) introduces the highest sensitivity, mil-hardened, indium gallium arsenide (InGaAs) shortwave infrared (SWIR) uncooled video camera for military imaging systems, covert surveillance and marine intelligence applications. The new SU640HSX features a 640 x 512 pixel format with a 25 micron pitch, advanced dynamic range enhancements, expanded configuration memory and a wide operating temperature range from -40 degrees to 70 degrees Celsius. The ultra-compact cameras are capable of imaging through atmospheric obscurants such as fog, haze and smoke. With on-board automatic gain control (AGC), built-in non-uniformity corrections (NUCs), and user-selectable contrast enhancement modes, the InGaAs SWIR sensors provide real-time daylight to low-light imaging in the SWIR for 24/7 passive surveillance and laser detection.

The camera has been ruggedized for harsh environments and is subjected to environmental stress screening prior to shipping. Featuring low power consumption (<2.7 W at 20 degrees Celsius), the solid-state, mil-hardened imager is MIL-STD-810G certified for mechanical shock, vibration, humidity, altitude, temperature, explosive atmosphere and transportability. The compact, enclosed module (< 9.5 in.³) is certified for conducted and radiated emissions per FCC CE and MIL-461F regulations. The small (< 3.8 in.³) OEM module is ideal for integrating into manned or unmanned airborne systems, handheld or robotic ground systems, and for driver vision enhancement (DVE) applications.

Goodrich's high sensitivity InGaAs SWIR SU640HSX mil-hardened camera is smaller, lighter weight, and consumes less power than cooled mid-wave or long-wave infrared imagers and competing germanium-based cameras. For a SWIR camera demonstration, please stop by Goodrich's booth # 2215 at AUVSI's Unmanned Systems North America from August 24-27, 2010 at the Colorado Convention Center, Denver, Colo.

For more information on InGaAs-based shortwave infrared imaging detectors, arrays and systems, please visit www.sensorsinc.com.

Goodrich Corporation, a Fortune 500 company, is a global supplier of systems and services to aerospace, defense and homeland security markets. With one of the most strategically diversified portfolios of products in the industry, Goodrich serves a global customer base with significant worldwide manufacturing and service facilities. For more information, visit www.goodrich.com.

GR - Electronic Systems