Product News: Sensors Monitors & Transducers
Infrared Thermometers target semiconductor industry.
Press Release Summary: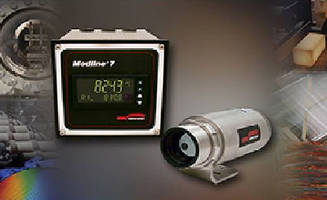 December 28, 2012 - With 7V Series of IR sensors, Modline® 7 IP65-rated thermometers provide continuous temperature monitoring from -40 to 5,432°F. Sensing head can operate as stand-alone unit, providing simultaneous analog and digital outputs of process temperatures. Intuitive sensor design features integral water-cooling in stainless steel enclosure. Supplied with Windows ModView Pro software, thermometers use high-speed DSPs with RS-485 serial data communications networking that supports up to 32 sensors.
Original Press Release
Ircon® Announces Enhancements for New Modline® 7 Infrared Thermometers
Press release date: December 19, 2012
Versatile sensor system meets a wider range of industrial application requirements and features extended five year warranty
SANTA CRUZ, Calif. – Ircon®, the worldwide leader in infrared (IR) noncontact temperature measurement, has introduced the new 7V Series of infrared sensors to the Modline® 7. The new models provide solutions for the semiconductor industry and are one of eight in a series launched by Ircon earlier this year.
Combined with Ircon ModView™ Pro software and an extended five year warranty, the Modline 7 provides best-in-class solutions for demanding industrial environments. The new PROC-7 processor box allows full sensor operation through a push button panel and is part of a full line of accessories offered for the Modline 7 series thermometers.
The Modline 7 is a rugged, IP65 (NEMA 4) sealed sensor system with the flexibility to meet nearly any continuous temperature monitoring and control requirement. The thermometers are used in a wide range of industrial applications, including semiconductor manufacturing, metals processing, furnace refractory, primary and secondary glass, as well as plastics thermoforming.
The Modline 7 offers exceptional versatility with extended temperature ranges (-40° to 3000°C/5432°F), high-resolution optics and fast response times. The thermometer's sensing head can operate as a stand-alone sensor, providing simultaneous analog and digital outputs of process temperatures. Motorized focus control and both through-the-lens and laser sighting are standard on all units.
The new thermometer's intuitive sensor design features integral water-cooling in a stainless steel enclosure. The high-temperature water jacket with integrated air purge capability reduces installation and setup time and is intended for use in ambient temperatures up to 315°C/599°F. An optional air purge collar accessory enables the lens to be cooled and kept free of debris in hot dusty environments.
In addition, the Modline 7 standardized installation accessories and common Windows ModView Pro software platform minimize multiple product configurations at the user's facility. Sensor setup and monitoring can be accomplished either from the rear panel of the instrument or from the ModView Pro software. This allows for remote PC-based sensor configuration, temperature monitoring, trending and archiving via an intuitive graphical user interface. For example, users can change the temperature display from degrees Fahrenheit to degrees Celsius, adjust emissivity levels, scale the range, focus the sensor, activate filters (e.g., peak hold, valley hold, and averaging) and save data for future reference or graphing.
Modline 7 Series thermometers use high-speed digital signal processors with an RS-485 serial data communications networking capability that supports up to 32 sensors. The ModView Pro software is included at no additional cost with all new Modline 7 Series thermometers
About Raytek and Ircon
Headquartered in Santa Cruz, Calif., Ircon has joined with Raytek to offer a complete IR solution, including the industry's most complete line of infrared sensors, linescanners and process imaging systems. Raytek, a Fluke company, is the worldwide leader in noncontact temperature measurement. Raytek designs, manufactures and markets a complete line of infrared (IR) temperature measurement instruments for industrial, maintenance and quality control applications. Raytek distributes its products worldwide with subsidiaries located in Europe and China. For more information, visit
www.raytek.com
or
www.ircon.com
.