Product News: Computer Hardware & Peripherals
Industrial Unmanaged Switches provide 10 ports.
Press Release Summary: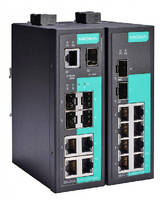 October 18, 2013 - For installations requiring single Gigabit fiber uplink, Model EDS-210A-1GSFP-1SFP is equipped with 1 Gigabit SFP port, 8 copper 10/100 Mb ports, and one 100 Mb SFP port. Model EDS-210A-1GTX-1GSFP-4SFP provides 5 copper ports and 5 SFP ports, with 1 copper and 1 SFP port supporting Gigabit operation. Supplied in IP30 metal housing, switches feature 12/24/48 Vdc redundant dual power input, EMI/EMC shielding, and two operating temperature options of 14–140°F and -40 to 167°F.
Original Press Release
Moxa's Latest Unmanaged Switches Provide Maximum Flexibility in Network Connectivity
Press release date: October 17, 2013
BREA, CA -- Moxa, a provider of hardened networking, communication and computing solutions, has unveiled its new EDS-210A series 10-port industrial unmanaged switches capable of delivering Gigabit speed and multiple fiber connections. The switches are designed to meet growing demands of high-bandwidth data convergence and long-haul data transport for small-scale and widely-distributed edge applications, such as those that can be found in factory floor automation.
The EDS-210A comes in two configurations that support a wide range of Gigabit and fiber connectivity requirements for maximum versatility. For installations requiring a single Gigabit fiber uplink, the EDS-210A-1GSFP-1SFP is equipped with 1 Gigabit SFP port, 8 Copper 10/100Mb ports, and 1 100Mb SFP port. For installations requiring two Gigabit ports and up to 5 fiber ports, the EDS-210A-1GTX-1GSFP-4SFP is equipped with 5 copper ports and 5 SFP ports, with 1 copper and 1 SFP port supporting Gigabit operation.
"Our new EDS-210A switches are ideal for high-speed applications that don't require managed switches but still require flexible fiber/copper port combinations, such as inside industrial control panels.  These panels may require Gigabit ports for uplink to control rooms and fast Ethernet ports for edge-level connectivity," explained Jim Toepper, Moxa's Product Marketing Manager for Industrial Ethernet. "The flexible connectivity options are optimal for all edge level factory automation networks that require data transmission using a mix of fiber and copper media."  
To assure industrial-grade reliability, Moxa EDS-210A series switches offer 12/24/48 VDC redundant dual power input, along with high level EMI/EMC shielding, and two operating temperature range options: -10°C to 60°C (14°F to 140°F) and -40°C to 75°C (-40°F to 167°F). Power and port-status LED displays on the front panel allow quick troubleshooting to reduce system downtime. The switches are aggressively priced, according to Toepper, and can be easily installed on any DIN rail or distribution box and in harsh industrial environments.
Key features:
Up to 2 Gigabit uplinks for high bandwidth data aggregation
Multiple fiber ports up to 4 100BaseSFP ports for maximum flexibility
IP30 metal housing
Redundant dual power input (12/24/48 VDC)
-40 to 75°C operating temperature range (T model only)
For more information, visit
www.moxa.com
or contact Moxa Americas at:
Moxa Americas Inc
601 Valencia Ave, Ste 100
Brea CA 92823
(714) 528-6777
ABOUT MOXA
Moxa is a leading manufacturer of industrial networking, computing, and automation solutions. With over 25 years of industry experience, Moxa has connected more than 30 million devices worldwide and has a distribution and service network that reaches customers in more than 70 countries. Moxa delivers lasting business value by empowering industry with reliable networks and sincere service for automation systems. Information about Moxa's solutions is available at
www.moxa.com
. You may also contact Moxa by email at info@moxa.com.
©2013 MOXA INC.  All rights reserved.  All products and names mentioned are the property of their respective owners.  While Moxa has made every effort at the time of publication to ensure the accuracy of the information provided herein, product specifications, configurations, prices, system/component/options availability are all subject to change without notice.