Product News: Computer Hardware & Peripherals
Industrial Notebook Computer supports mobile engineering.
Press Release Summary: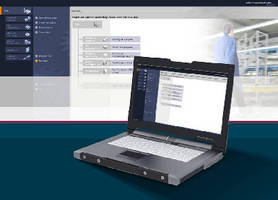 December 11, 2012 - Based on Intel Core i5/i7 processor, Simatic Field PG M4 features 16 GB of RAM, 15.6 in. full-HD widescreen display, and Bluetooth technology. Portable unit provides retractable handle, 5-hr battery life, smart phone charging when switched off, and 3-pin power adapter, as well as removable hard-disk and integrated data backup. Housed in fully shielded cast magnesium for protection against EMI, Simatic Field PG M4 features dirt-resistant keyboard with abrasion-proof, laser-cut key labeling.
Original Press Release
Ready-to-run Industrial Notebook for Mobile Engineering
Press release date: November 27, 2012
The Siemens Industry Automation Division has equipped the latest generation of its rugged and ready-to-run industrial notebooks with a multitude of practical functions for mobile engineering. Simatic Field PG M4, with up to 16 GB of RAM, is fitted with wireless, Bluetooth and Intel Core i5/i7 processor technology and offers a brilliant, high-resolution 300 candela 15.6" full-HD widescreen display, as well as a powerful battery with an operating time of about five hours, sophisticated battery management with smart phone charging concept when switched off, and a compact threepin power adapter. The portable device with retractable handle, removable hard-disk and integrated data backup concept has all the established Simatic S5 and S7 interfaces for industrial applications on board. Simatic Field PG M4 is delivered with preinstalled Simatic engineering software for controllers and the human machine interface (HMI) and is therefore ready to run for mobile use in configuring, commissioning, service and maintenance of automation systems.

Thanks to its specially selected materials, Simatic Field PG M4 is suitable for use in hostile industrial environments. The lightweight, robust and fully shielded cast magnesium housing offers protection against electromagnetic interference. Impact-absorbing elements on exposed parts of the casing protect against shocks and vibrations, while the stable, retractable carry handle provides a secure grip for mobile use. The keyboard is dirt-resistant with abrasion-proof, laser-cut key labeling. Integrated data security functions, WoL (Wake on LAN) and iAMT (Intel's Active Management Technology) increase the level of security when using the hard disk and simplify
remote administration of the device.

More information is available on the Internet at: www.siemens.com/simatic-pg

Media Relations: Gerhard Stauss
Telephone: +49 911 895-7945
E-mail: gerhard.stauss@siemens.com
Siemens AG
Industry Sector - Industry Automation Division
Gleiwitzerstr. 555, 90475 Nuremberg, Germany

The Siemens Industry Sector (Erlangen, Germany) is the world's leading supplier of innovative and environmentally friendly products and solutions for industrial customers. With end-to-end automation technology and industrial software, solid vertical-market expertise, and technology-based services, the Sector enhances its customers' productivity, efficiency, and flexibility. With a global workforce of more than 100,000 employees, the Industry Sector comprises the Divisions Industry Automation, Drive Technologies and Customer Services as well as the Business Unit Metals Technologies. For more information, visit www.siemens.com/industry

The Siemens Industry Automation Division (Nuremberg, Germany) supports the entire value chain of its industrial customers – from product design to production and services – with an unmatched combination of automation technology, industrial control technology, and industrial software. With its software solutions, the Division can shorten the time-to-market of new products by up to 50 percent. Industry Automation comprises five Business Units: Industrial Automation Systems, Control Components and Systems Engineering, Sensors and Communications, Siemens PLM Software, and Water Technologies. For more information, visit www.siemens.com/industryautomation