Product News: Labels Tags Signage & Equipment
Impact Markers offer returned-cylinder indicator option.
Press Release Summary: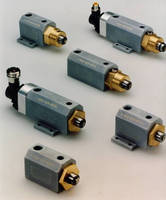 August 26, 2011 - Available in 1 and 2 in. stroke versions with respective max marking pressure of 1,500 and 2,500 lb, Model 78 Mite-E-Mark(TM) permanently stamps 1 or 2 characters into steel, aluminum, plastic, and various composites. Cycle time is less than 0.4 sec, and return cylinder indicator option is available for automation applications when it is necessary to know when marker is clear. Double-acting, air-operated impact marker is precision machined and chromed from steels weighted to minimize shock at impact.
Columbia Marking Tools - Chesterfield Township, MI
Original Press Release
Tiny Mite-E-Mark(TM) Impact Markers with New Cylinder Indicator Option Can Easily Be Mounted Anywhere
Press release date: August 23, 2011
The smallest, most high-powered impact marker in the world allows marker to be installed in limited spaces...even in submersible applications.
Columbia Marking Tools, Inc. pioneered the development of the double-acting air-operated impact marker and their tiny Model 78 Mite-E-Mark line is extremely rugged and cost-effective (most systems are under $500) and packs 18 times the force of an air cylinder with the same bore. It is ideal for marking 1 or 2 characters that need to be permanently stamped into steel, aluminum, plastic and various composites. The markers are designed for cycle times (advance and return) in under four tenths of a second for over 2 million cycles.
Available now in 1 and 2-inch stroke models, the Mite-E-Mark has a new return cylinder indicator option that allows you to sense its return. This is particularly helpful in automation applications when it is necessary to know when the maker is clear when the part transfers. The models are available with either an "A" rod style for multiple characters, and CMF-steel type or a "B" style for single, robust round CM7X-marker inserts. 1/16-inch to 3/16-inch characters can be marked as well as pointed or chiseled points for staking or dimpling applications. The holder is an integral part of the rod end with a set screw for retaining the stamps. Special rod ends are also available that allow more characters to be stamped. The markers can be keyed with non-rotating rams or non-keyed where the mark orientation is not critical.
The impact markers are precision machined and chromed from high-speed-steels specifically weighted to minimize shock at impact with breakaway seals that insure instant velocity to generate maximum impact force based on marker stroke. The double action dual sized ports define the ability to move maximum air powered speed forward and then reduced volume for return stroke.
Mite-E-Mark impact markers can be easily mounted from the rear, or with a foot mount, with just four bolts and two air lines that are hooked up to factory air and controlled by a standard 4-way air valve with a regulator to vary the marking force. It is recommended the shop air supply should be a ¼-inch air line with a maximum pressure of 100 psi. Maximum marking pressure is 1500-lbs for markers with a 1-inch stroke and 2,500-lbs for markers with a 2-inch stroke. Columbia also can provide the proper sized pneumatic valve pack kits.
The Mite-E-Mark is commonly used on assembly fixtures and test stands to indicate part status with respect to; good or bad acceptance, test stand ID, fixture ID, machine ID or shift designation. Packaging lines use Mite-E-Marks to stamp boxes with permanent date codes.
The Model 78 Mite-E-Mark impact marker specifications and solid model drawings are available from the
www.columbiamt.com
web site. This allows the design engineer to select the features and the program which will automatically create the drawing and the data files required. The drawings are available in 2D or 3D in ACAD, Solid Works, Catia and many other formats.
Columbia Marking Tools is a leading designer and manufacturer of metal and plastic marking equipment including stamps, roll marking dies, roll marking and impact marking machines, fully programmable pulsed fiber diode laser, peen/scribe marking and UID/2D Square Dot® machines, numbering heads and special marking machines.