Product News: Sensors, Monitors & Transducers
Imaging Sensor helps agriculturalists measures plant health.
Press Release Summary: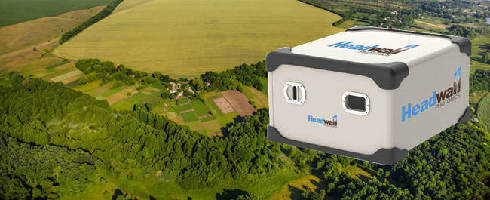 July 18, 2014 - Optimized with robust packaging for airborne and satellite deployment, Hyperspec® High Resolution Imaging Sensor analyzes chlorophyll fluorescence emissions to measure plant health. Sensor is based on all-reflective concentric optical design that uses precise, high diffraction efficiency gratings for simultaneous high spatial and spectral resolution of <0.1 nm across spectral range of instrument. Low stray light and minimized smile and keystone distortion are fundamental to design.
Original Press Release
Headwall's New Hyperspec® High Resolution Imaging Sensor Targets Vegetation Fluorescence for Airborne and Satellite Platforms
Press release date: July 14, 2014
Chlorophyll Fluorescence Imaging (CF) Helps Agriculturalists Build Robust Plant Physiological Database

FITCHBURG, MA — Headwall is announcing the availability of a new hyperspectral imager targeting very high resolution spectral measurements of 0.1 nm over specific spectral ranges which yield indicators of vegetative fluorescence to measure plant health. The ability of the new High Resolution Hyperspec instrument to analyze chlorophyll fluorescence emissions at extremely high resolution and high throughput gives remote sensing researchers and precision agriculturalists exceptionally valuable data from which to make environmental decisions. The new instrument is smaller, lighter, and more affordable than other commercially available products and is optimized with robust packaging for airborne and satellite deployment.

"Our customers have been asking us for a high resolution hyperspectral imager targeting the small spectral bandpath ranges for use in extracting useful data with respect to chlorophyll fluorescence," said Headwall's CEO David Bannon. "Because remote sensing and crop science are multi-billion dollar industries, plant heath and physiology determined through hyperspectral imaging is a key investment for this market." Water deficit is a leading indicator of crops under distress, and there is a scientific link between this and chlorophyll fluorescence emissions.

The new sensor is based on Headwall's all-reflective concentric optical design that uses very precise, very high diffraction-efficiency gratings for simultaneous high spatial and spectral resolution of < 0.1nm="" across="" the="" spectral="" range="" of="" the="" instrument.="" high="" efficiency,="" low="" stray="" light,="" and="" minimized="" smile="" and="" keystone="" distortion="" are="" fundamental="" to="" this="" design="" approach.="" headwall's="" all-reflective="" approach="" also="" means="" no="" transmissive="" optics,="" which="" makes="" the="" overall="" package="" not="" only="" more="" robust="" for="" space="" applications="" but="" lighter="" as="">

About Headwall Photonics
Headwall Photonics is the leading designer and manufacturer of imaging sensors and spectral instrumentation for industrial, commercial, and government markets. Headwall's high performance spectrometers, spectral engines, and high performance diffractive optics have been selected by OEM and end-user customers around the world for use in critical application environments. As a pioneer in the development of hyperspectral sensors and imaging spectrometers, Headwall enjoys a market leadership position through the design and manufacture of patented spectral instrumentation that is customized for application-specific performance.

For information contact:
Mr. Chris Van Veen
Headwall Photonics, Inc.    
978/353-4051               
www.headwallphotonics.com
cvanveen@headwallphotonics.com