Product News: Electrical Equipment & Systems
IGBT Drive Transformers enable reliable motor control.
Press Release Summary: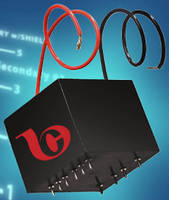 March 2, 2009 - Operating from 500-3,000 V and up to 350 VA and 500 kHz, IGBT power control transformers may be used where high power and harsh electrical environments coincide. Products are custom-designed using circuit simulation and magnetic modeling techniques to control parasitics such as dc winding resistance, winding capacitance, and leakage inductance. Corona values are less than 10 pC @ 3.3 kV, HIPOT at 8 kVrms @ 60 Hz for 60 sec with under 2 mA leakage current, and BIL rating is 14 kV.
Original Press Release
New High Isolation IGBT Drive Transformers for Ultra Reliable Motor Control
Press release date: February 26, 2009
Bicron's new high frequency IGBT power control transformers have found ready application in alternative energy such as wind turbines for blade control and rail locomotion for power supply and traction control systems where high power and harsh electrical environments are frequently found together. Transformers operate over a range of 500V to3000V up to 350VA and 500KHz.

Transformers for specific applications are custom designed utilizing circuit design simulation and magnetic modeling techniques to control parasitics such as DC winding resistance, inter and intra-winding capacitance and leakage inductance. In this way greater power efficiencies are achieved and costs reduced for unneeded compensation components.

With over 30 years in the development of corona-free magnetics, Bicron's manufacturing skills and rigorous test methods have resulted in typical product life of 20 years or more, greatly reducing the chance of catastrophic failure in high power motor control devices in which they are used-particularly for systems located in remote areas such as wind power generators or mobile systems such as rail locomotives or marine power systems where field maintenance and repair costs are specially high.

The new Bicron IGBT drive transformers, which are an outgrowth of Bicron's long running line of high frequency magnetic products, enable greater system savings due to their competitive cost as well as their outstanding reliability. With corona values at <10pC @3.3KV, HIPOT at 8KVrms @60Hz for 60s with <2mA leakage current, and BIL rating at 14KV, the assurance of reliable operation in adverse environments is greatly increased.