Product News: Laboratory and Research Supplies and Equipment
Hyperspectral Imaging Kit fosters composition evaluation.
Press Release Summary: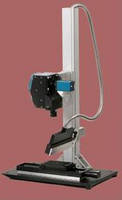 September 21, 2012 - Optimized for 250–600 nm UV-VIS spectral band, Hyperspec UV Starter Kit provides everything needed to evaluate and categorize spectral composition of materials and samples within UV spectral region. This hyperspectral imaging system, designed for laboratory researchers, comes with Hyperspec UV imaging spectrometer, gantry assembly, calibrated power-stabilized lighting, linear stage and controller, and processor engine with Hyperspec software.
Headwall Photonics, Inc. - Fitchburg, MA
Original Press Release
Headwall Photonics Simplifies Hyperspectral Imaging with Its New Hyperspec UV Starter Kit
Press release date: September 11, 2012
Optimized for the 250nm-600nm UV-VIS Spectral Band, Starter Kit Provides an Easy-to-Deploy Introduction to Hyperspectral Imaging
Fitchburg, MA - Headwall Photonics has introduced its simple-to-use Hyperspec UV Starter Kit that provides everything needed to evaluate and categorize the spectral composition of materials and samples within the UV spectral region. The new hyperspectral imaging system is designed for laboratory researchers in a wide range of application areas including forensics, document examination, and biotechnology analysis.
Each Hyperspec UV Starter Kit comes complete with a high-performance Hyperspec UV imaging spectrometer optimized for the 250nm-600nm UV-VIS spectral range. A gantry assembly, specially calibrated power-stabilized lighting, linear stage and controller, and a processor engine loaded with Headwall's Hyperspec software completes the system. Headwall's available Hyperspec Data Processing Unit manages the incoming hyperspectral data, while an optional enclosure eliminates the effect of stray light. Both are available as accessories for the Starter Kit.
"The Hyperspec UV imaging configuration is designed specifically for the analysis of materials such as forensic evidence or biological samples where optimized spectral and spatial resolution is needed," offered David Bannon, CEO of Headwall Photonics. Document and currency verification, forensics, food and pharmaceutical inspection, and chemical analysis are just a few of the areas where hyperspectral UV imaging can deliver a wealth of valuable data. "Headwall developed the Hyperspec Starter Kit a number of years ago as a means to get our customers up and running very quickly with hyperspectral technology. We continue to invest in this platform and the Hyperspec UV Starter Kit is a response to customer demand for chemical imaging instruments optimized for the UV spectral region," noted Bannon.
Headwall Photonics is a recognized pioneer in the field of hyperspectral imaging. Its Hyperspec and Micro-Hyperspec sensors have been successfully deployed for end-users and OEMs in applications including military/defense, airborne and ground surveillance, and food safety, and pharmaceutical inspection. Key to delivering outstanding spatial and spectral resolution as well as high signal-to-noise (SNR) performance is Headwall's focus on diffractive optics and aberration-corrected holographic gratings. This award-winning technology is complemented by the Company's ISO-9001:2008 certification and vertically-integrated manufacturing capabilities.
About Headwall Photonics
Headwall Photonics is a leading designer and manufacturer of hyperspectral imaging spectrometers and spectral instrumentation for industrial, commercial, and government markets. Headwall's high performance Hyperspec family instruments have been selected by military/defense departments, OEMs, and end-user customers around the world for use in critical application environments. Headwall enjoys a market leadership position through the design and manufacture of spectral instrumentation that is customized for application-specific performance.
For information contact:
Mr. Chris Van Veen, Headwall Photonics, Inc.    
Tel: +1 978-353-4051               
www.headwallphotonics.com
Email: cvanveen@headwallphotonics.com
Each Starter Kit comes complete with hyperspectral spectrometer, gantry, moving stage, notebook PC, and lighting (pulsed Xenon and Quartz Tungsten Halogen). Everything needed is here!
The Hyperspec Starter Kit can be configured to include an enclosure that blocks other light sources, assuring optimal performance.
Another option for the Starter Kit is Headwall's Hyperspec Data Processing Unit (HDPU), which provides quick and powerful management of incoming hyperspectral images.
Hyperspec® is a registered trademark of Headwall Photonics, Inc.