Product News: Optics & Photonics
Hydrophilic/Hydrophobic Optical Coatings meet needs of various applications.
Press Release Summary: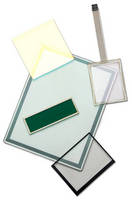 January 21, 2011 - Suited for outdoor use or environments where moisture is present, hydrophilic coatings reduce distortion by interacting positively with water and causing condensates to spread uniformly over surface of coated glass. They comply with MIL-C-675C for severe abrasion and can be applied on glass substrates for optics applications with wavelengths from 350-2,700 nm. Available as coated and laminated solutions, hydrophobic coatings create barrier against dirt, dust, and liquids.
Abrisa Technologies - Santa Paula, CA
Original Press Release
Hydrophilic & Hydrophobic Optical Coatings Available from ZC&R Coatings for Optics
Press release date: January 19, 2011
ZC&R Coatings for Optics, a division of Abrisa Technologies, provides both hydrophilic and hydrophobic optical coatings for applications such as outdoor surveillance, camera windows, outdoor displays, marine displays, medical devices, and more. ZC&R's hydrophilic coatings reduce distortion by interacting positively with water, causing condensates to spread uniformly over the surface of the coated glass; sheeting water rather than forming droplets that scatter light. Perfect for outdoor use or in environments where moisture is present, hydrophilic coatings can be combined with all ZC&R specialty coatings for a highly customized solution. Durable and cost-effective, this ion-assisted inorganic hard coating functions well in high humidity situations. ZC&R hydrophilic coatings can be applied on glass substrates for optics applications with wavelengths between 350 nm and 2700 nm. In addition, the durable coatings comply with MIL-C-675C for severe abrasion. ZC&R's hydrophobic coatings can be provided in both coated and laminated solutions for repelling moisture. Ideal for touch screens, the water repellant hydrophobic coating creates a barrier against dirt, dust and a host of liquids. About Abrisa Technologies: Abrisa Technologies is headquartered in Santa Paula, California, and is comprised of three divisions that provide precision glass optics products and services. The divisions include; Abrisa Industrial Glass, Inc., Sycamore Glass Components, and ZC&R Coatings for Optics. As a market leader in optical coatings and high quality precision glass fabrication, Abrisa Technologies is dedicated to providing premier customer service, cost-effective products that fit each customer's exacting requirements. www.abrisatechnologies.com About ZC&R Coatings for Optics: ZC&R Coatings for Optics located in Torrance, California is a division of Abrisa Technologies, providing high quality precision coatings and components from 200 nm to 20 microns, from UV to the FAR IR; including high power laser coatings at 1.604, 1.54, 1.57, and 10.6 microns. Other available coatings include anti-reflection (AR), beamsplitters, hot and cold mirrors, band pass color filters, heat and color control, ITO and index-matched ITO, metal coatings, dielectrics, covert and fluorescence filters. Specializing in prototypes and OEM volumes, ZC&R is a global leader in quality optical thin films. www.zcrcoatings.com