Product News: Test & Measuring Instruments
Hydraulic Wrench Testers enable accurate calibration.
Press Release Summary: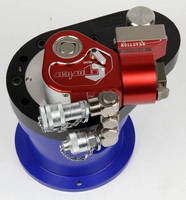 May 19, 2011 - Comprised of hydraulic tool calibration fixture and transducer linked to torque measurement instrument, Hydraulic Wrench Testers calibrate square drive and hexagon link hydraulic torque wrenches with ratings from 185-59,000 lb-ft. Three versions of Hydraulic Tool Calibration Fixtures have capacities of 5,160, 36,875, and 59,000 lb-ft and are compatible with transducers extending from 1¾-3½ in. square drives. Transducer capacity ranges are from 184-1,840 lb-ft to 5,900-59,000 lb-ft.
Norbar Torque Tools, Inc. - Willoughby, OH
Original Press Release
New Hydraulic Wrench Testers for Accurate Calibration
Press release date: May 18, 2011
Willoughby, OH - Norbar Torque Tools introduces a new range of products for testing hydraulic torque wrenches with torque ranges from 185 ft.lb - 59,000 ft.lb. (250 N.m - 80,000 N.m.). Comprised of a hydraulic tool calibration fixture and a transducer linked to a torque measurement instrument, these devices accurately calibrate both square drive and hexagon link torque wrenches.

Norbar Hydraulic Wrench Testers are ideally suited for end-user companies with quantities of hydraulic wrenches wishing to avoid the costs and potential delays of using a calibration sub-contractor; for tool rental companies who must ensure that their wrenches are calibrated prior to leasing; and for calibration and tool repair companies or laboratories that offer calibration services.

Hydraulic torque wrenches find increased use in industries such as petrochemicals, mining and wind energy, where concurrent demands for calibration traceability from industry and regulatory authorities make the introduction of these Testers especially relevant. A wide range of Norbar hex-to-square drive adaptors ensure that these test pots are compatible for most hydraulic torque wrenches with either square drive or hollow hexagonal link outputs. Three versions of Norbar Hydraulic Tool Calibration Fixtures have capacities of 5,160, 36,875 & 59,000 ft.lb. (7,000, 50,000 & 80,000 N.m) respectively and are compatible with a range of Norbar transducers extending from 1-3/4 inch to 3-1/2 inch square drives. Transducer capacity ranges are from 184 - 1,840 ft.lb. (250 - 2,500 N.m) up to 5,900 - 59,000 ft.lb. (8,000 - 80,000 N.m.)

Norbar offers a full line of torque tightening and calibration tools for nearly every bolting application.

For further information, contact: Norbar Torque Tools, Inc. 36400 Biltmore Place Willoughby, OH 44094 Phone: 866-667-2272 FAX: 440-953-9336 E-MAIL: inquiry@norbar.us