Product News: Electrical Equipment & Systems
Hybrid Connector has fiber optic channels, electric contacts.
Press Release Summary: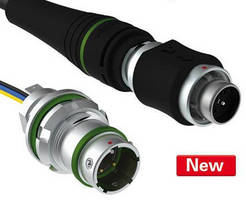 March 6, 2014 - Featuring 2 fiber channels and 2 electrical contacts, Fischer FiberOptic Series FOH 2-2 hybrid connector allows transmission of both power and data. Design helps conserve space as well as design and installation time while promoting optical performance in all indoor and outdoor environments. Along with mono-block mate adapter that facilitates access to ferrules to aid field cleaning/maintenance, features include IP68 (mated) and IP67 (unmated) ratings and push-pull mating design.

Original Press Release
Fischer Connectors Launches Revolutionary FiberOptic Hybrid Connector
Press release date: March 4, 2014
Fischer FiberOptic Series Hybrid
New Robust Power Optical Solution for Fischer FiberOptic Series
St-Prex, Switzerland – Fischer Connectors, a worldwide leader in push-pull circular connectors, extends its Fischer FiberOptic Series with a new and revolutionary hybrid connector. After the successful launch of the Fischer FiberOptic Series with two (FO2) and four (FO4) fibers at the end of 2012, Fischer Connectors now offers a solution with two fiber channels and two electrical contacts (FOH 2-2) in one small high performance connector.
The unique aspect of the brand new Fischer FiberOptic Series hybrid connector is that both fiber and electrical contacts are now offered in a single rugged connecting solution, allowing both power and data to be transmitted flawlessly through one connector. This saves space, money, design and installation time, and offers premium optical performance in all environments, indoor or outdoor.
Similar to the Fischer FiberOptic Series FO2 and FO4, the hybrid FOH 2-2 benefits from a mono-block mate adapter for easy access to ferrules giving the possibility for easy field cleaning and maintenance.
Other key features of the FOH 2-2 are:
• IP68 mated & IP67 unmated Ingress Protection (Norm IEC 60529)
• Extreme Environment FiberOptic Solution (Norm IEC 61753-1 Cat. E)
• Fiber contacts: SM & MM optical fibers, UPC & APC Polishing
• Electrical contacts: current rating 10 [A (Norm IEC 60512-5-2-5b) and rated voltage 400 [V r.m.s. (Norm EIA-364-20-B and IEC 60512-3-5b)
• Push-pull easy mating plugs & receptacles
• Optional gas tight panel receptacles (IP68 or <10-6 mbar l/s)
'The hybrid version is an additional product of our Fischer FiberOptic Series', says Dominique Glauser, CEO of the Fischer Connectors Group. 'With this new product, we extend our response to a high demanding market for high quality fiber optic applications and solutions.'
For more information, please visit
www.fischerconnectors.com/fiberopticseries
Fischer Connectors has been designing, manufacturing and distributing high performance connectors and cable assembly solutions for 60 years.
Known for their reliability, precision and resistance to demanding and harsh environments, Fischer Connectors' products are commonly used in fields requiring faultless quality, such as medical equipment, industrial instrumentation, measuring and testing devices, broadcast, telecommunication and military forces worldwide.
Primary design and manufacturing facilities are located in Saint-Prex, Switzerland, with subsidiaries and distributors located worldwid
Fischer Connectors Switzerland
Chemin du Glapin 20
CH - 1162 Saint-Prex
Tel +41 (0)21 800 95 95
pr@fischerconnectors.ch