Product News: Material Handling & Storage
Hot-Fill PET Container handles 205°F temperature.
Press Release Summary: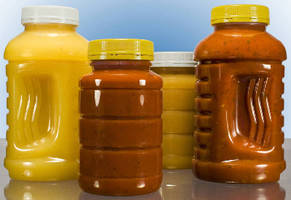 November 20, 2009 - ThermaSet(TM) hot-fill, wide-mouth polyethylene terephthalate (PET) containers include stock and custom jars that offer sustained thermal stability at 205°F and shrinkage of less than 1%. Based on proprietary process that increases PET's glass transition point and barrier properties, products feature structural design that includes base that absorbs pressure and vacuum. Food manufacturers can choose from 5 different stock designs: 18, 24, and 32 oz round or 45 and 48 oz grip jars.
Original Press Release
Thermaset(TM) Line from Liquid Container Sets New Hot-Fill PET Standard
Press release date: November 15, 2009
West Chicago, IL (November 15, 2009) - Liquid Container is launching a new generation of hot-fill, wide-mouth polyethylene terephthalate (PET) containers under the ThermaSet(TM) brand name.
The line of stock and custom jars is the first to offer sustained hot-fill performance at 205 degrees Fahrenheit, making it ideal for viscous food items (apple and pasta sauces, jams and jellies and tomato-based products) which tend to fill at higher temperatures.
The ThermaSet(TM) line is based on a proprietary process developed by Liquid Container which substantially increases PET's glass transition point. The end result is sustained thermal stability at 205 degrees Fahrenheit and shrinkage of less than 1 percent.
"Many of the hot-fill PET containers in use today, become thermally-challenged when temperatures hit 205 degrees. What makes this a 'first," is that our ThermaSet(TM) technology offers sustained performance at that temperature," explains Mark Schneider, senior director of PET technology group, Liquid Container.
Further, typical container shrinkage following the thermal cycle is between 1.5 to 4 percent. Body dimensions have a tendency to become compromised affecting everything from finish/seal integrity to labeling. The ThermaSet(TM) jar line, with less than 1% shrinkage, sets new performance standards.
Another benefit of the proprietary process is that it yields an incremental improvement in barrier. Liquid Container also has additional barrier options to meet more challenging product performance objectives.
Additionally, the ThermaSet(TM) line offers superior clarity-even when compared to other PET containers.
The patent pending ThermaSet(TM) structural design also includes a base which has been specially designed to absorb pressure and vacuum. This feature helps minimize distortion during cooling.
"We are pleased to be able to introduce a container line to the food industry that not only will take performance to a new level, but it will also positively impact production and transport. The ThermaSet(TM) enhanced thermal stability will positively impact finish tolerance/seal integrity and handling on the production line, as well as minimize failures during distribution," Schneider says.
Initially, food manufacturers will be able to choose from five different stock designs-18-, 24-, 32-ounce round and 45- and 48-ounce "grip" jars. Liquid Container can also design custom jars using ThermaSet(TM) unique hot-fill technology.
About Liquid Container Liquid Container, West Chicago, IL, is a leading U.S. manufacturer of custom and stock PET and HDPE rigid plastic containers. The company services its long-term partnerships with recognizable global brands via its 14 manufacturing locations across the United States. Over the past 40 years, Liquid Container has delivered its award-winning designs, backed by sophisticated manufacturing technology, to the food, beverage, household chemical and automotive markets. For additional information:
www.liquidcontainer.com
.
Please forward inquiries to: Liquid Container 1760 Hawthorne Lane West Chicago, IL 60185 Phone: (630) 231-0850 Email: sales@liquidcontainer.com