Product News: Controls & Controllers
Host Controller IC facilitates USB 2.0 Hi-Speed integration.
Press Release Summary: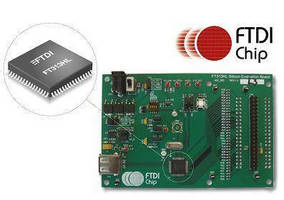 November 27, 2012 - Supporting USB 2.0 hi-speed (480 Mbps) as well as full-speed (12 Mbps) and low-speed (1.5 Mbps) implementations, FT313H adds high-speed connectivity capability into systems. Solution runs off 3.3 V supply, with I/O levels configurable from 1.8–3.3 V, and draws ~78 mA in full operation and under 200 µA while in suspend mode. Features include 24 KB RAM for data transfer and buffering execution, multiplexed interface, and capacity for direct memory access (DMA) operation.
Future Technology Devices International Limited - Glasgow
Original Press Release
FTDI Unveils USB 2.0 Hi-Speed Host Controller IC
Press release date: November 13, 2012
Providing 480 Mbit/s capability & enabling easy system integration into existing designs

Future Technology Devices International Limited (FTDI) has strengthened its portfolio of USB semiconductor solutions, with the release of the FT313H host controller IC. This feature-rich device supports USB 2.0 hi-speed (480 Mbits/s), as well as full-speed (12 Mbit/s) and low-speed (1.5 M bit/s) implementations. Specifically designed for easy integration, it adds high speed connectivity capability into a system, enabling fast data transfers, mass storage thumb-drives, addition of wireless dongles and modular system expansion, through its support of standard USB class drivers.

The FT313H system specifications make it applicable for use across all market segments including industrial, networking, medical and consumer. The device runs off a 3.3V supply, with IO levels configurable between 1.8V and 3.3V drawing approximately 78 mA when in full operation and just under 200 µA while in suspend mode. The built-in 24 kByte high speed RAM memory executes data transfer and buffering. The multiplexed interface provides for board level interconnect through either a general purpose 16-bit bus, NOR, or SRAM interfaces, while minimising pins on the chip.

With the capacity for direct memory access (DMA) operation, the IC can easily be combined with the system microcontroller in order to enhance connectivity, so that data transfer rates can be increased.  For example, a set top box can gain wireless functionality by attaching a wireless USB dongle via a FT313H host port.

The FT313H's downstream port can be configured to offer the most optimised USB charging solution for the end product, with charging downstream port (CDP) or dedicated charging port (DCP) options to choose from (thereby complying with Battery Charge Specification Rev 1.2). When this standardised USB charging link is created between the embedded host and the peripheral, increased charging is permitted which enables current levels between 0.5 A and 1.5A.

"With the need to increase data transfer rates, the wide proliferation of USB across all market segments and the decreasing importance of the PC platform, there is a growing demand to have a USB Host in end systems," states Fred Dart, CEO and founder of  FTDI. "Hosts are the brains of USB transactions and the new FT313H offering provides engineers with an easy method to add this capability to their designs. In contrast to Host solutions integrated into a microcontroller/microprocessor, which are generally just full-speed, the USB hi-speed operation of this device, means engineers can expand system connectivity and take advantage of the enormous base of USB products now emerging."

The FT313H has an operational temperature range -40 °C to 85 °C, enables it to be employed is demanding environmental settings. It is available in compact Pb-free, 64-pin QFN, LQFP and TQFP packages

Pricing for the FT313H starts at $1.75 for 100k unit volumes.  Development support is provided via the UMFT313EV evaluation board with a sales price of $75.85 for a single unit.

Further information on these products can be found at: http://www.ftdichip.com/Support/Documents/DataSheets/ICs/DS_FT313H.pdf

About FTDI
Future Technology Devices International (FTDI) specialises in the design and supply of silicon and software solutions for the Universal Serial Bus (USB). FTDI offers a simple route to USB migration by combining easy-to-implement IC devices with proven, ready-to-use, royalty-free USB firmware and driver software. The company's single and multi-channel USB peripheral devices come with an easy-to-use UART or FIFO interface. These popular devices can be used in legacy USB-to-RS232/RS422 converter applications or to quickly interface an MCU, PLD, or FPGA to USB. A wide range of evaluation kits and modules are available to evaluate FTDI's silicon prior to design-in. Vinculum is FTDI's brand name for a range of USB Host/Slave controller ICs that provide easy implementation of USB Host controller functionality within products and use FTDI's tried and tested firmware to significantly reduce development costs and time to market. FTDI is a fab-less Semiconductor Company headquartered in Glasgow, UK with R&D centres in Glasgow and Singapore and has regional sales offices in Oregon, USA, Shanghai, China and Taipei, Taiwan.

More information is available at http://www.ftdichip.com

Regional sales offices and distributor lists are available http://www.ftdichip.com/FTSalesNetwork.htm

For further information and reader enquiries:
Dave Sroka
Future Technology Devices International Limited
Unit 1, 2 Seaward Place, Centurion Business Park, Glasgow, G41 1HH, UK
Tel: +44 (0) 141 429 2777   Fax: +44 (0) 141 429 2758
E-mail: dave.sroka@ftdichip.com

Issued by:
Mike Green
Pinnacle Marketing Communications Ltd
Tel: +44 (0)20 84296543  
E-mail: m.green@pinnaclemarcom.com
Web: www.pinnacle-marketing.com