Product News: Electronic Components & Devices
High Voltage Bulk Capacitors feature vertically stacked design.
Press Release Summary: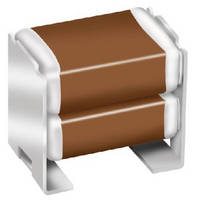 November 26, 2012 - Utilizing lead-frame technology to vertically stack 1 or 2 multilayer ceramic chip capacitors into single surface mount package, KPS Series in X7R dielectric is available in rated voltages of 500 and 630 Vdc. Lead-frame isolates capacitors from PCB, providing advanced mechanical and thermal stress performance and addressing concerns for audible microphonic noise that may occur when bias voltage is applied. Offering board flex capability up to 10 mm, devices operate from -55 to +125°C.
Kemet Electronics Corp. - Simpsonville, SC
Original Press Release
KEMET Introduces New Ceramic High Voltage Bulk Capacitance Solution at Electronica 2012
Press release date: November 14, 2012
The KPS High Voltage Series in X7R Dielectric Offers Highest Capacitance/Voltage Combinations in the Industry
GREENVILLE, S.C., -- KEMET Corporation (NYSE: KEM), a leading manufacturer of tantalum, ceramic, aluminum, film, paper and electrolytic capacitors, today introduced its new KEMET Power Solutions (KPS) High Voltage stacked capacitors in X7R dielectric at Electronica 2012 in Munich, Germany.
To view the multimedia assets associated with this release, please click: http://www.multivu.com/mnr/57223-kemet-power-solutions-kps-high-voltage-stacked-capacitors-x7r-dielectric
KEMET's KPS Series High Voltage devices utilize a proprietary lead-frame technology to vertically stack one or two multilayer ceramic chip capacitors (MLCCs) into a single compact surface mount package. The two-chip vertically stacked device offers up to double the capacitance in the same or smaller design footprint, allowing for both component and board space reductions.
"KEMET now offers some of the highest CV values available in a 2220 footprint," stated Craig Scruggs, KEMET Specialty Ceramics Product Manager. "These high voltage bulk capacitance devices are available in rated voltages of 500 VDC and 630 VDC, have lower ESR and ESL properties than competitive technologies, and present optimization and downsizing opportunities of existing high voltage designs. We are very pleased with the response it is receiving at Electronica," continued Scruggs.
With an operating temperature range of -55 degrees Celsius to +125 degrees Celsius, KPS Series devices provide superior flex performance over traditional surface mount MLCCs with board flex capability up to 10 mm. The lead-frame isolates the capacitors from the printed circuit board, thereby providing advanced mechanical and thermal stress performance and addressing concerns for audible microphonic noise that may occur when a bias voltage is applied. They are also environmentally friendly, capable of Pb-free reflow profiles and are available in both Commercial and Automotive Grades. KPS Series Automotive Grade capacitors meet the demanding Automotive Electronics Council's AEC-Q200 qualification requirements.
KPS devices are ideally suited to a wide range of applications which include switching power supply smoothing circuits, snubbers in lighting ballasts circuits, and high-voltage coupling/DC blocking in inverters.
For more information on KPS High Voltage Series products, please visit KEMET's booth at Electronica 2012 in Hall B6, Booth 442 at the New Munich Trade Fair Centre.
Glossary
 ESR               Equivalent Series Resistance
 ESL                Equivalent Series Inductance
About KEMET
KEMET's common stock is listed on the NYSE under the symbol "KEM." At the Investor Relations section of our web site at
ir.kemet.com/,
users may subscribe to KEMET news releases and find additional information about our Company. KEMET applies world class service and quality to deliver industry leading, high performance capacitance solutions to its customers around the world and offers the world's most complete line of surface mount and through-hole capacitor technologies across tantalum, ceramic, film, aluminum, electrolytic, and paper dielectrics. Additional information about KEMET can be found at
www.kemet.com
.
Contact: Dean W. Dimke
Senior Director, Marketing Communications and Investor Relations
deandimke@KEMET.com
954.766.2806