Product News: Electronic Components & Devices
High Temperature Inductors withstand up to 200°C.
Press Release Summary: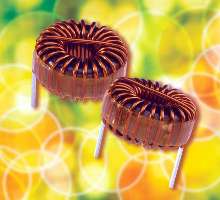 December 16, 2004 - Series DR360-1-2 Wirewound Coil Inductors provide protection against EMI problems in high current handling applications up to 38 A. Magnetic alloy core offers extended life in extreme temperatures from -55 to 200°C. Depending on model, DR360-1-2 Series features inductance from 0.8-1000 mH. DCR is specified from 0.003-0.43 ohms over max current rating of 1.6-38.7 A. Units come in round packages from 0.86-1.280 in. diameter with lead spacing from 0.45-0.65 in.
Original Press Release
New High Current, High Temperature Inductors Withstand Up To 200 Degrees Celsius
Press release date: December 6, 2004
Ideal for Automotive, Instrumentation, Factory Automation Equipment, Industrial Machinery, Power Supplies, Telecom and More ROMOLAND, CA-December 6, 2004--Designed for high current, high temperature applications in rugged environments, the new DR360, DR361 and DR362 Series Wirewound Coil Inductors from Datatronic Distribution, Inc., combine superior performance, long-life and economical cost. When electronic equipment operates in demanding environments that would freeze or fry most inductors, the DR360-1-2 Coil Inductors provide reliable protection against challenging EMI problems in high current handling applications up to 38-plus Amps. The DR 360-1-2 Series features an advanced magnetic alloy core, which offers extended life in extreme temperatures from -55 to 200°C. The need for inductors with extended operating temperatures is becoming increasingly common in many of today's higher density power supply designs, as well as in many types of electronic equipment operating outdoors or within industrial plants. The tough DR360-1-2 inductors are ideal for commercial and industrial equipment, including automotive, factory automation, heavy equipment, industrial machinery, instrumentation, power supplies, telecom and more. Depending on the specific model, the DR360-1-2 Series Inductors feature an inductance range from 0.8 to 1000 mH. The DCR is specified from 0.003 to 0.43 Ohms maximum over a maximum current rating from 1.6 to 38.7 Amps. With their through-hole wirewound coil design, the DR360-1-2 Series Inductors come in round packages sized from 0.86 inch (22 mm) diameter to 1.280 inches (32.5 mm) diameter, with lead spacing from 0.45 to 0.65 inch depending on the specific model. There are compatible with high-speed assembly equipment, and they are also suitable for high-temperature soldering. Custom designed DR360-1-2 Series Wirewound Coil Inductors can be specified to meet unique circuit requirements. They are priced from $0.69 to $1.48 each in typical production volumes. Lead-time is stock to six weeks. Volume OEM pricing is available upon request. Datatronic Distribution, Inc., manufactures transformers, inductors, ADSL transformers, LAN filter modules and many other magnetic devices in standard off-the-shelf as well as custom packages. For more information, contact Datatronic Distribution Inc., 28151 Highway 74, Romoland, CA 92585, or telephone toll free 1-888-889-5391, or 951-928-7700, or fax 951-928-7701, or email at ddisales@datatronics.com, or visit the website at
www.datatronics.com