Product News: Vision Systems
High-Speed Imaging System combines high sensitivity, resolution.
Press Release Summary: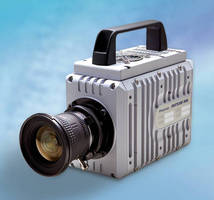 January 30, 2013 - Employing CMOS sensor technology, Fastcam SA8 offers 1,280 x 1,024 pixel image resolution up to 3,500 fps and 1,280 x 720 (720p) at 5,000 fps. Digital sensor provides sensitivity to ISO 5,000 for monochrome and ISO 2,500 for color. Available with 4 and 8 GB memory options, Ethernet-enabled camera features rugged, sealed body for use in harsh environments without ingress of dust or other contaminants. Sensor size, at 12.8 x 10.2 mm, is compatible with 1 in. C-mount and Nikon G-type lenses.
Original Press Release
Photron Introduces Powerful, High-Quality, High-Speed Imaging System - Fastcam SA8
Press release date: January 28, 2013
• Photron's new high speed camera and recently introduced National Instruments™ data acquisition (DAQ) module will premier at Photonics West 2013.

San Diego, CA – Photron, Inc., a global leader and manufacturer of high speed cameras and image analysis software, introduces the powerful, high performance Fastcam SA8 high speed camera with 1280 x 1024 pixel image resolution up to 3,500 frames per second (fps).  Increased frame rates are also available at reduced resolution, including 1280 x 720 (720p) at 5,000 fps.  The innovative CMOS sensor technology offers high quality, low noise images with superior light sensitivity that previously has not been available from other high speed imaging systems.

Photron's Fastcam SA8 digital sensor provides impressive sensitivity: ISO 5,000 for monochrome and ISO 2,500 for color, fully compliant with ISO 12232 Ssat standard. The sensor size at 12.8 x 10.2 mm is compatible with 1-inch C-mount and Nikon G-type lenses.  Two memory options include 4GB and 8GB with convenient high performance Gigabit Ethernet interface to quickly download images to your PC.

The compact SA8 camera is housed in a rugged, sealed camera body, making it ideal for imaging in harsh environments without ingress of dust and other contaminants. Applications include automotive safety testing, engineering research, materials science, fluid dynamics, military/defense/aerospace research and ballistic imaging.  For more information, please visit Photron at Photonics West 2013 South Hall booth # 843 or www.photron.com.

Photron, Inc. (USA) (www.photron.com) is a leading worldwide manufacturer and supplier of digital high speed cameras, including the world's fastest mega pixel video systems. High speed imaging products range from low-cost solutions to highly specialized, intensified systems for biofluorescence and combustion analysis.  High speed, slow motion cameras featuring high definition (HD) resolution up to 2,000 frames per second are available for motion picture, reality TV, sports, and broadcast applications.  For production fault-finding, Photron offers high speed imaging systems with multiple miniature cube or pencil camera heads.  For extreme or hostile environments, such as vehicle crash testing and/or military weapons proving, Photron's high-G rated camera systems are utilized. Cameras include standard and custom, high-resolution, high-speed imagers, software, and systems to meet R&D, automotive, commercial, medical, and defense-related motion image analysis requirements.