Product News: Vision Systems
High-Speed Cameras suit QA and event analysis applications.
Press Release Summary: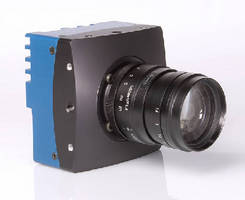 February 10, 2014 - Housed in 80 x 80 x 53 mm C-mount package, EoSens CXP Cameras feature integrated CoaXPress real-time data interface, which provides data rate up to 6.25 Gbps over single coaxial cable and 25 Gbps over 4 coaxial cables. Model 3CXP features 1,690 x 1,710-pixel format, max resolution of 3 MP, and data transfer up to 560 fps, while 4 MP Model 4CXP has 2,336 x 1,728-pixel format and 560 fps transfer rate. Offering 5,120 x 5,120 pixel format, 25 MP Model 25CXP features data rate up to 80 fps.
Original Press Release
CoaXPress High-Speed Cameras: Power and Ease-of-Use in Small Packages
Press release date: February 7, 2014
Unterschleissheim, Bavaria — MIKROTRON, a supplier, designer, and manufacturer of compact and robust high-speed, high-resolution cameras, announces their new line of EoSens CXP Cameras with the integrated CoaXPress real-time data interface. CoaXPress features high data rates with up to 6.25Gbps over a single coaxial cable and 25Gbps using four coaxial cables, long cables lengths, power over the cable, and uplink for control of the camera. All CXP Series cameras are CoaXPress compliant.
The Need for Speed
Today's industrial quality assurance and event analysis applications demand superior image quality, uncompromising precision, and high speed. These qualities must come in systems that can be easily installed and flexibly reconfigured. High-speed recordings allow analysis of the fastest processes in manufacturing and research and development in electronics, medicine, bionics, and even complex motion sequences in sport. Small, easy-to-configure, high-resolution high-speed digital cameras open up many new quality assurance and process optimization applications, such as laser triangulation, 3D inspection, or process control in PCB assembly. That's where the EoSens CXP family comes in.
Acquire Images Quickly and Easily
The high-speed camera models of the EoSens CXP family by Mikrotron open up many new and sophisticated applications. EoSens CXP cameras offer high data transfer rates and single-cable communication and control, along with a camera size as small as 80 x 80 x 53 mm in the C-Mount package. The image quality, small size, and simple control and configuration are all advantages for easy system integration and operation.
A Camera for Every Need
The three cameras in the EoSens CXP family provide resolution and data transfer options to meet a variety of needs. The 3CXP's 1,690 x 1,710-pixel format provides a maximum resolution of 3 megapixels and allows a data transfer rate as high as 560 frames per second. The 4CXP has a 4 megapixel 2,336 x 1,728-pixel format that can also transfer at up to 560 frames per second. The 25CXP's 5,120 x 5,120-pixel format offers a maximum resolution of 25 megapixels at a data rate up to 80 frames per second. Each of the cameras provides application flexibility with a configurable region of interest (ROI) that allows transfer rates of up to 100,000 frames per second. A configurable global shutter provides distortion-free and sharp images for accurate analysis. These features allow the cameras to capture even small details at high speed.
The outstanding performance and functionality of the EoSens CXP cameras meet demanding requirements for a wide variety of applications. The cameras are ideally suited for all classical machine vision applications, as well as for event analysis in research and development, and also for high-speed image acquisition in sports and broadcasting applications.
About MIKROTRON:
MIKROTRON Mikrocomputer Digital- und Analogtechnik GmbH was established in 1976 in Eching, Bavaria. MIKROTRON provides small and robust high-speed, high-resolution cameras for industrial and scientific applications, sports analysis, advertisements, and documentaries. More information on MIKROTRON's capabilities is available at
www.MIKROTRON.de
.
Company Contact:
Steve Ferrell
Director of Business Development
Mikrotron 
North American Office
12172 Caddy Row, Ste. 100
San Diego, CA 92128
Office: 858-521-0496
Mobile: 858-774-2518
email:
stfe@mikrotron.de
www.mikrotron.de