Product News: Optics & Photonics
High Resolution Lenses are available for 1 and 4/3 in. sensors.
Press Release Summary: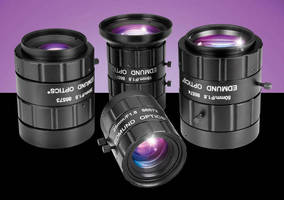 January 22, 2013 - Designed to withstand harsh demands of industrial inspection applications, TECHSPEC® High Resolution Lenses for 1 and 4/3 in. Sensors are optimized for 6 and 9 MP sensors. Each C-mount, fixed focal length lens has locking focus and iris rings to prevent unwanted adjustments as well as front filter thread for integrating standard optical filters. While 16, 25, and 35 mm focal length lenses are compatible with up to 1 in. sensor formats, 50 mm focal length works with up to 4/3 in. formats.
Original Press Release
TECHSPEC® High Resolution Lenses for 1" and 4/3" Sensors Ideal for Industrial Inspection
Press release date: January 18, 2013
Optimized for Newest 6 and 9Megapixel Sensors

Barrington, N.J. - Edmund Optics (EO), the premier provider of optical components, introduces new TECHSPEC® High Resolution Lenses for 1" and 4/3" Sensors. These durable lenses are designed to withstand the harsh demands of industrial inspection applications.

High resolution and strong contrast

TECHSPEC High Resolution Lenses for 1" and 4/3" Sensors provide high resolution and strong contrast. They are available in 16 mm, 25 mm and 35 mm focal length lenses, compatible with up to 1" sensor formats, as well as a 50 mm focal length lens that is compatible with up to 4/3" sensor formats. Each of these C-mount, fixed focal length lenses features sturdy locking focus and iris rings to prevent unwanted adjustments. A convenient front filter thread is perfect for integrating standard optical filters. TECHSPEC High Resolution Lenses for 1" and 4/3" Sensors are in-stock and available for immediate delivery for fast turnaround and excellent value.

To see TECHSPEC® High Resolution Lenses for 1" and 4/3" Sensors in action, visit Edmund Optics, booth 540, at Automate in Chicago January 21-24 for an interactive demonstration.

About EO:

Edmund Optics® (EO) is a leading producer of optics, imaging, and photonics technology for R&D, electronics, semiconductor, pharmaceutical, biomedical, and military markets around the globe. EO is the world's largest supplier of off-the-shelf optical components. Customers can purchase items by contacting EO at 1-800-363-1992, via the catalog, or via the website at www.edmundoptics.com

Company Contact:
Kirsten Bjork-Jones
Director Global Marketing Communications
Edmund Optics®, Inc.
101 East Gloucester Pike
Barrington, NJ 08007 U.S.A.
Phone: 1-800-363-1992
Fax: 1-856-573-6295
email: kbjork-jones@edmundoptics.com