Product News: Fluid & Gas Flow Equipment
High Power Logic Elements come in compact package.
Press Release Summary: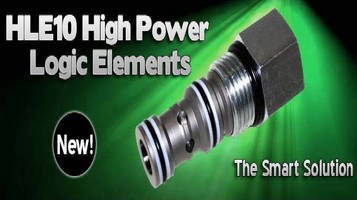 December 21, 2012 - With flow rating to 21.1 US gpm, HLE10-CPC (NC, pilot to close) can be applied as load-sensing bypass compensator for fixed displacement pump with single or multiple actuators. It can also be applied as bypass-type pressure-compensated flow control. With 15.8 US gpm flow rating, HLE10-OPO (NO, pilot to open) can be used as pre-compensator for proportional directional control or flow controls. Both logic elements use 10-3S cavity designed for pressures to 5,075 psi.
Original Press Release
Comatrol Introduces New HLE10 Logic Elements
Press release date: December 18, 2012
High power density in a small package

Comatrol—a global leader in the design, manufacture and sale of engineered hydraulic cartridge valves - is pleased to introduce the HLE10-CPC and HLE10-OPO high power logic elements.  Responding to the market demand for higher flow and pressure capability in smaller valves, Comatrol designed the HLE10 models with the focus on delivering high performance in cost-effective valve designs with small space claims.  These logic elements use a 10-3S cavity, which allows for higher flow than a standard 10-3 cavity, and were designed for high pressure of 350 bar (5075 psi).  "The release of the HLE10 logic elements allows a designer to make a smaller and more cost-effective manifold when optimizing the valve for the job," says Mike Stoltenow, regional account manager (US). "Previously, they had to select a 12 size valve, where now there is an option to apply the smaller HLE10 with its high flow capacity for these popular schematics." Mike adds, " The increased pressure capability to 350 bar also opens the door to higher power circuits  and steel manifold designs that weren't an option before."

The HLE10-CPC is high pressure logic element, normally closed, pilot to close and features a rated flow of 80 LPM (21.1 US gal/min). This valve can be applied as a load-sensing bypass compensator for a fixed displacement pump with single or multiple actuators. Designers can also apply this logic element as a bypass-type pressure-compensated flow control.

The HLE10-OPO is high pressure logic element, normally open, pilot to open and offers a flow rating of 60 LPM (15.8 US gal/min).  This logic element can be used as a pre-compensator for proportional directional control or flow controls.  This valve is the perfect fit when used in combination with Comatrol's new PSV-12-34 proportional directional control valve for compensated flow control.  Use of this logic element as a compensator ensures that flow rate, and subsequent actuator speed are maintained regardless of the load pressure.

The addition of these 10-3S cavity valves allows Comatrol to offer circuit designers a full range of sizes for these two popular schematics – 10-3, 10-3S, 12-3S, 16-3S and 20-3S size options.  The family of valves provide flows ranging from 50 LPM (13 GPM) to 320 LPM (85 GPM) for the CPC schematic and from 40 LPM (11 GPM) to 200 LPM (53 GPM) for the OPO schematic – at 7 bar (100 psi) pressure drop. With the flexibility Comatrol's logic elements offer, the range of possibilities is only limited by the designer's imagination.

About Comatrol

Comatrol, a member of the Sauer-Danfoss (NYSE: SHS) Group, is the most responsive source for Cartridge Valves and Hydraulic Integrated Circuit (HIC) solution needs. Comatrol works with customers and suppliers around the world to manufacture high performance machine control solutions for mobile, on-highway, energy, and industrial equipment markets.

Additional information is available at www.comatrol.com or follow us on Facebook™ at www.facebook.com/comatrol