Product News: Mechanical Components and Assemblies
High-Performance Rod Guides withstand temperatures to 500°F.
Press Release Summary: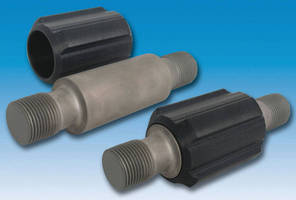 October 27, 2011 - Era® Blazer(TM) Rod Guides can increase production and decrease workover costs by extending rod and tubing service life in standard and high-temperature applications such as progressing cavity downhole pumping. Manufactured from engineered plastics enhanced with performance additives tailored to withstand high-temperature well conditions, products feature spin-thru design that reduces torque generated by mechanical and hydraulic friction of rotating rod string.
Original Press Release
New Era® Blazer(TM) High Performance Rod Guides
Press release date: October 26, 2011
Reduce Rod and Tubing Wear in High Temperature Wells

Willis, Texas - R&M Energy Systems offers a line of rod guides for progressing cavity downhole pumping applications. The New Era® Blazer(TM) High Performance Rod Guides can effectively increase production and decrease workover costs by extending rod and tubing service life in standard and high temperature applications. These rod guides deliver maximum performance, even in well conditions that reach up to 500°F.

The New Era Blazer rod guide is manufactured from engineered plastics enhanced with performance additives specifically tailored to withstand high temperature well conditions. This high performance rod guide delivers effective rod and tubing protection and yet displays long performance life, even at high temperatures.

The spin-thru design of the New Era Blazer rod guide reduces the torque that is generated by the mechanical and hydraulic friction of the rotating rod string. Additional features and benefits include:
Reduced wear resulting from the centralization of the rods inside the tubing
Compatible with steam assisted gravity drainage (SAGD) and steam flooded applications
Handles temperatures to 500°F
Extensive range of sizes available
Long service life optimizes return on investment
Easily installed in the rod string

R&M Energy Systems can recommend the proper rod guide design, material, spacing and auxiliary equipment for both beam and progressing cavity pump applications using its proprietary Rod Guide Advisory Program (RGAP(TM)) software along with its years of well monitoring and performance tracking. Wellbore deviations, dynamometer readings, workover histories, well operating conditions, completion information and production data are all used to properly select the most effective New Era rod guide design, material and spacing for each well.

R&M Energy Systems, part of the Energy Services Group of Robbins & Myers, Inc., manufactures and markets a wide variety of products for use in the discovery and recovery segments of the oil and gas industry. R&M Energy Systems' products include the following: Hamer® Line Blinds; Hercules® Wellheads, Valves, Stuffing Boxes, and artificial lift accessories; Magnum® Needle Valves; standard and customized Moyno® Down-Hole Pumps; Moyno® Guardian(TM) Variable Speed Drives; Moyno® Surface Pumps, Moyno® Tri-Phaze Systems; Moyno® and Moyno® ERT(TM) Power Sections; Moyno® HTD(TM) High Temperature Down-Hole Pumps; New Era® Rod Guides; Resun® Plug Valves; RODEC(TM) Tubing Rotators, artificial lift accessories and down-hole tools; StayTite® Swing Joints; Yale® Closures and Hammer Unions; and SENTRY® Closures. With facilities in the U.S., Belgium, Venezuela, Canada and Australia, R&M Energy Systems readily serves customers worldwide.

Please forward Canadian reader service inquiries to Paul Dittrich, R&M Energy Systems Canada, 3703 - 98th St., Edmonton, Alberta, T6E 5N2, Phone: (800) 661-5659 Fax: (780) 465-9535 E-mail: info@rmenergy.com

Please forward U.S. reader service inquiries to Angel Santos, R&M Energy Systems, 10586 Highway 75 North, Willis, TX, 77378. Phone: (936) 890-1064 Fax: (936) 890-9595 E-mail: info@rmenergy.com