Hidden Camera/Recorder utilizes motion detection.
Press Release Summary: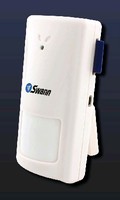 February 26, 2007 - Offering 3 modes of operation, Digital Private Eye surveillance system automatically records images onto SD Memory Card upon detecting motion. In Set-and-Forget mode, system is connected to 9 V rechargeable battery or ac power source and takes pictures when motion is detected. In Webcam mode, unit captures video at 30 frames/sec and records directly to PC. Card Reader mode allows users to display content of Memory Card by plugging unit into PC via USB cable.
Original Press Release
Swann Digital Private Eye Delivers Affordable Hidden Surveillance
Press release date: February 15, 2007
New motion-activated still camera provides improved home or business security without breaking the bank
Santa Fe Springs, CA - Swann Communications, the global leader in security monitoring solutions, is proud to unveil their latest security surveillance product - the Digital Private Eye hidden camera and recorder. Available for $199, the Swann Digital Private Eye is a do-it-yourself security surveillance system that automatically records images onto an SD Memory Card upon detecting motion.
Swann's Digital Private Eye is a new-generation, time-lapse recorder with motion detection. It has a color still camera that captures and records images directly to an SD Memory Card with the option of using either a 9V rechargeable battery or AC power via a plug-in cable. If fitted with a 1GB SD Memory Card, the Swann Digital Private Eye can record up to 30,000 images, which can be viewed by simply connecting the unit via a USB cable or by plugging the SD Memory Card into a PC or other viewing device. The Digital Private Eye looks like a real alarm PIR (passive infra-red), it's almost impossible to tell the difference.
According to Mr. Jeremy Stewart, Swann Communication's Global Marketing Manager,
"This very easy to install product can provide a great deal of comfort to those who are security conscious at a fraction of the cost of a full video surveillance system. There is no limit to the number of potential applications for the Swann Digital Private Eye to be fitted in the home or business environment."
There are three operational modes for the Swann Digital Private Eye offering complete flexibility in how it can be used to enhance security and/or peace-of-mind for the home or business owner. The product can be used in a "Set-and-Forget" alarm mode. This involves connecting it to the battery or AC power source and placing the camera in position. It will take pictures whenever the motion detector senses movement and will record them to the SD Memory Card or direct to a PC if connected. Swann's Digital Private Eye can also be used in Webcam mode to capture video at 30 frames per second and record this directly through a PC. A third Card Reader mode allows users to plug the unit into a PC using a USB cable to display the content of the Memory Card.
"Throughout the world, the Digital Private Eye is proving a huge success for Swann because it provides a genuine surveillance solution at a very low cost," Mr. Stewart said. "We are extremely confident that this plug-and-play product will be equally as well received in North America because it is so inexpensive, so easy to use and because it delivers great quality images."
For more information on the Digital Private Eye or to learn about more of Swann Communications products, go to
www.swannsecurity.com
. To request the Digital Private Eye or any other Swann products for review, please contact PR Representative Brian Metcalf at (305) 576-1171 x11 or at brianmetcalf@maxborgesagency.com.
About Swann: Swann is a global leader in security monitoring solutions aimed at consumers through retail channels. Swann's sustained growth and success has been based on designing and developing surveillance technology that is innovative yet cost effective.
The company's products are predominantly do-it-yourself (DIY) by nature with easy-to-follow 'plug-and-play' instructions, full after-sale technical support and retail-friendly product packaging aimed at home, office, business and small-to-medium retail users.
Swann was founded in 1988 and now has offices in the United States, Australia, and Hong Kong with global distribution through partners in Asia, the Middle East, New Zealand, UK, Europe and South Africa.
Web:
www.swannsecurity.com