Product News: Sensors, Monitors & Transducers
Hi-Res CameraChip Sensor serves Next-Gen video applications.
Press Release Summary: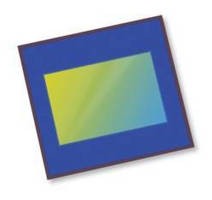 January 11, 2013 - Intended for mobile applications, 1/3 in. OV4688 is 4-megapixel CameraChip™ sensor in native 16:9 HD format built on 2 micron OmniBSI-2™ pixel that optimizes low-light sensitivity and dynamic range. Product is equipped with 4-lane MIPI serial output interface and can capture full-resolution 4-megapixel HD video at 90 fps with zero shutter lag, 1080p HD at 120 fps with electronic image stabilization, and 720p HD at 180 fps. Sensor fits in 8.5 x 8.5 mm module with z-height under 6 mm.
OmniVision Technologies, Inc. - Sunnyvale, CA
Original Press Release
OmniVision Launches High Performance 4-Megapixel CameraChip(TM) Sensor for Next-Generation Video Applications
Press release date: January 9, 2013
OV4688 with New 2-Micron OmniBSI-2(TM) Pixel Offers Full-Resolution Video at 90 Frames Per Second with Excellent Low-Light Sensitivity

SANTA CLARA, Calif. -- OmniVision Technologies, Inc. (NASDAQ: OVTI), a leading developer of advanced digital imaging solutions, today announced from the Consumer Electronics Show (CES) in Las Vegas the launch of the OV4688, a 4-megapixel CameraChip(TM) sensor in a native 16:9 high definition (HD) format, designed to deliver ultra high quality, fast frame rate HD video and photography for mobile applications. Built on a new 2-micron OmniBSI-2(TM) pixel, the OV4688 offers dramatically increased low-light sensitivity along with high dynamic range, and can capture full-resolution video and photography at 90 frames per second (FPS) with zero shutter lag.

"Today's video-centric imaging applications demand higher resolutions and faster frame rates with better image quality and sensitivity, even under the most challenging lighting conditions," said Vinoo Margasahayam, director of product marketing at OmniVision. "The OV4688's new 2-micron OmniBSI-2 pixel delivers 40 percent higher sensitivity when compared to the 1.75-micron OmniBSI-2 pixel. This improvement combined with the ability to run full-resolution 4-megapixel video at 90 FPS makes the OV4688 a highly attractive camera solution for video-centric applications."

The 1/3-inch low-power OV4688 captures full-resolution 4-megapixel HD video at 90 FPS, 1080p HD at 120 FPS with electronic image stabilization (EIS), and 720p HD at 180 FPS. The sensor's fast frame rate enables additional key features, including full-resolution continuous frame capture or burst photography where multiple frames are captured in rapid succession, and recording high-quality slow-motion videos, providing end-users with an extremely dynamic video-capture experience using common mobile devices.

The OV4688 features a high-speed 4-lane MIPI serial output interface to facilitate the required high data transfer rate and fits into an 8.5 x 8.5 mm module with a z-height of less than 6 mm. It is currently being sampled and is expected to enter mass production in the second quarter of 2013.

About OmniVision
OmniVision Technologies (NASDAQ: OVTI) is a leading developer of advanced digital imaging solutions. Its award-winning CMOS imaging technology enables superior image quality in many of today's consumer and commercial applications, including mobile phones, notebooks, tablets and webcams, digital still and video cameras, security and surveillance, entertainment devices, automotive and medical imaging systems. Find out more at www.ovt.com.

OmniVision® and the OmniVision logo are registered trademarks of OmniVision Technologies, Inc. OmniBSI-2(TM) and CameraChip(TM)  are trademarks of OmniVision Technologies, Inc. All other trademarks are the property of their respective owners.

CONTACT: Media Contact: Martijn Pierik, Impress Labs, +1-602-366-5599, martijn@impresslabs.com ; Company Contact: Scott Foster, OmniVision Technologies, +1-408-567-3077, sfoster@ovt.com ; Investor Relations: Mary McGowan, Blackburn Communications, +1-408-653-3263, invest@ovt.com