Product News: Plant Furnishings & Accessories
Heavy-Duty Workstation offers powered height adjustment.
Press Release Summary: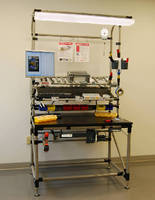 June 20, 2012 - With 42 mm steel pipe and joints forming base, Heavy-Duty Workstation uses only 2 angle braces for rigidity. System has 1 in. thick plastic work surface rated at 750 lb and measuring 42 x 36 x 30-42 in. Each leg features internally mounted hydraulic cylinder for varying surface height. Electro-hydraulic ergo lift system, rated to lift up to 1,000 lb, has 12 in. stroke that positions work surface to match operator's stature. Overall height of base and overhead structure adjusts from 72-84 in.
Original Press Release
Fully Adjustable, Heavy-Duty Workstation Optimizes Ergonomics
Press release date: June 2, 2012
Creform Corporation, Greer SC, has introduced a fully adjustable, heavy-duty workstation while maintaining the ergonomics, flexibility and efficiency needed to ensure a comfortable work environment for associates with a variety of statures. The Workstation is designed and built using the Creform System of plastic coated steel pipe, metal joints and numerous hardware accessories - all providing virtually limitless construction options.
To make the unit heavy-duty, Creform's unique 42mm pipe and joints form the base of the structure. 42mm pipe is 2-1/2 times stronger than standard 28mm pipe. A powered height adjustment system contributes to optimizing the flexibility and ergonomics of the workstation.
The workstation base has a 1" thick, heavy-duty plastic work surface rated at 750 lb and measures 42" W x 36" D x 30" to 42" H. Because it is constructed of 42mm pipe it uses only two angle braces for rigidity. For position flexibility, each of the unit's legs features an internally mounted hydraulic cylinder for varying the surface height.
This electro-hydraulic ergo lift system is rated to lift up to 1000 lb and has a 12" stroke that positions the work surface to match an operator's stature. The system features an optional new 3-memory position switch box so that each person can pre-set their most comfortable surface working height. In addition, the workstation's back, overhead structure and attached shelves raise and lower preserving their relative position with the work surface.
To make the systems economical and flexible, the back and overhead structure is built using 42/28mm joints and Creform 28mm pipe and joints. The overall height of the base and overhead structure adjusts from 72" to 84". The lower shelf has drawer slides for easy access to stored items and a computer keyboard. The top shelf features slide pipe and various conveyor styles including Creform's new Placon wide roller conveyors designed to flow parts, totes and boxes to the operator. The computer monitor attaches with a special mounting bracket that allows the operator to position it for comfortable viewing.
Convenience and function are further supported by Creform's wide range of accessories. Other workstation features include a four-foot overhead fluorescent fixture for task lighting as well as an eight-plug industrial rated power strip to serve as the power center for all electrically powered tools and equipment. Creform large and small tool holders keep commonly used equipment in optimum positions while Creform sheet holders and hooks position reference documents for easy viewing.
Other available options not shown include casters to move the workstations for cleaning or repositioning. For static sensitive operations the workstation shown can also be built using Creform ESD pipe, joints and components.
The workstation is completely adjustable because the Creform system is easily modified. If anything needs to be moved for easier access or accessories added, it can be done with the simple turn of a few fasteners and repositioned. Plus, Creform offers over 700 components in its system so the only limitation is the user's imagination.
The Creform System is used to create an array of material handling devices including kitting carts, tool carts, workstations, flow racks and AGVs. It is a proven component in Continuous Improvement and Lean Manufacturing programs and Creform Corporation partners with customers in developing and implementing these programs.
Visit
www.creform.com
for additional information regarding Creform Corporation and its products.
Creform is a registered trademark of Yazaki Kako Corporation and Creform Corporation