Heavy-Duty Lighting Harness facilitates truck/trailer wiring.
Press Release Summary: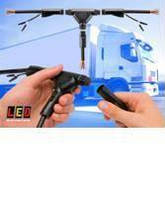 October 24, 2011 - Lighting Harness System is designed for easy installation into any type of truck or trailer. System incorporates push-and-seal connectors rated to IP67 and also comes with choice of standard cable lengths: 60 cm, 1.2 m, 1.8 m, and 2.4 m lamp cables; 1-5 m marker lamp cables; and 4, 6, 9, 12, and 15 m main chassis cables. Products are designed to be used on hard-working vehicles provide extended-life lighting harness solution.
Original Press Release
LED Autolamps Announces New Heavy Duty Lighting Harness System
Press release date: October 6, 2011
...cables & connectors quickly and simply installed to fit any truck or trailer
Birmingham, UK - LED Autolamps, a leading manufacturer of commercial vehicle LED lighting solutions, introduces a brand new heavy duty Lighting Harness System, which is suitable for any type of truck or trailer.
This new system provides a quick and foolproof method of wiring a truck or trailer without the need for any specialist tools or training. The harness system incorporates several new specially-designed patented push-and-seal connectors which are rated to IP67 international protection standards. It also comes with a choice of standard cable lengths, with lamp cables of 60cm, 1.2m, 1.8m and 2.4m, marker lamp cables of 1m, 2m, 3m, 4m and 5m and main chassis cables of 4m, 6m, 9m, 12m and 15m.
Designed specifically to be used on hard-working vehicles and to be simply and easily installed, these push-and-seal connectors provide a cost-effective long-life lighting harness solution that is extremely tough and durable.
Maurice Bibb, Commercial Director Europe of LED Autolamps concluded, "Complementing this offer of our exciting new cable harness system are our ranges of LED rear cluster lamps and marker lights, which incorporate our push-and-seal connectors and integrate fully with this system."
About LED Autolamps LED Autolamps is a leading manufacturer and supplier of an extensive range of standard and customised European certified commercial vehicle LED lighting systems.
Based in Sutton Coldfield, Birmingham in the UK, our European office handles all sales and distribution activities throughout the UK & mainland Europe. We provide the highest standards of service to all of our customers through efficiency, responsibility and credibility and strive to deliver new product innovations through technological achievements.
As a leading vehicle lighting manufacturer, LED Autolamps also welcomes application-specific product enquiries from OEM producers, bodybuilders and trailer manufacturers.
For further information please visit:
www.ledautolamps-uk.com