Product News: Chemicals & Chemical Processing
Hard Grade TPE works when rubber or TPVs will not.
Press Release Summary: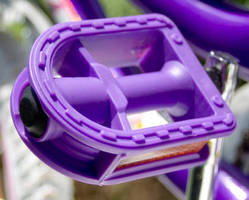 November 27, 2012 - With 60 Shore D hardness, StarFlex® H TPE thermoplastic elastomer (TPE) meets needs of designers and product marketers requiring elastomer that is hard yet flexible and intended to be used where rubber or TPV (thermoplastic vulcanizate) are not sufficient or applicable. Product will not craze when flexed and can be processed on standard injection molding or extrusion machinery. Applications include hinges for electronic products, toys, tools, tool cases and even bookends.

Original Press Release
When Rubber or TPVs Don't Work,Star Offers Special Hard Grade of TPE
Press release date: November 13, 2012
Less Expensive, Flexible w/o Crazing and Easier to Process
BROADVIEW, IL – A very special hard grade of TPE (60 Shore D) has been developed by Star Thermoplastic Alloys & Rubbers, Inc. (STAR) for designers and product marketers needing an elastomer that is both hard and flexible, and where rubber or a TPV (thermoplastic vulcanizate) won't do.
New StarFlex® H TPEs from STAR are formulated in the new STAR laboratories.  This was in response to numerous requests by several company customers and prospects for STAR to formulate a hard, yet flexible thermoplastic elastomer (TPE) for products requiring a high level of hardness, but would not craze when flexed.  Applications, according to STAR officials, could include but are not limited to hinges for electronic products (examples: tablet stands or cell phone accessories), toys, tools, tool cases and even bookends.
Dr. Prakash Sanjeevaiah, PhD., Research and Development Manager at STAR, says, "Our previous experience cloning numerous grades of TPVs, and offering our TPEs at costs far less than those offered by TPV manufacturers, made this challenge not too formidable.  In response to these requests, we were able to turn around samples fairly quickly, and nearly as quickly, depending upon the application, the new STAR grade processed quite easily.  We then received orders and manufactured larger production quantities.  We see this new product line offering great potential across several industries."
Additional reasons cited for the novel, new formulation and its initial success include:
• Vulcanized rubber is more difficult to mold than a thermoplastic
• TPVs, although they can be processed like a thermoplastic, are limited in their colorability and, as compared to a TPE, are more expensive
• Available in natural, Starflex H TPEs
- Are easily colored
- Can be processed on standard injection molding or extrusion machinery
- Offer broader design boundaries for new product development
STAR, founded in 1993, is a leading provider of thermoplastic elastomers with many production lines to fill both large and small orders, a full-service laboratory and trained sales and technical support personnel across the continent.  Company products are sold under the trade names
Starflex, StarPrene, StarMediflex, StarTuff, StarXtrude, StarPet, StarBond, StarClear, StarGrip and StarGrip-X.  With its newly enhanced chemicals laboratory, STAR has the ability to duplicate any existing TPE with improved formulations and at better prices.
For more information on the new Shore 60 D TPE, contact:  Star Thermoplastic Alloys & Rubbers, Inc. 2121 West 21st Street, Broadview, IL 60155.  Tel: 708-343-1100.  Fax: 708-343-1110.  Web:
www.starthermoplastics.com
.  Email: sales@starthermoplastics.com.