Product News: Cleaning Products & Equipment
Handwashing Soap suits food processing industry.
Press Release Summary: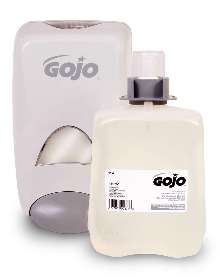 October 28, 2003 - GOJO® E2 Foam Sanitizing Soap enables compliance with good hand hygiene practices and is registered with NSF for use in USDA-regulated food processing environments. Soft, fragrance-free formula can be used as core element of any Hazard Analysis and Critical Control Point Program and effectively removes germs, animal fats, and oils without irritating skin. Product comes in 2 refill sizes to fit GOJO FMX-12(TM) 1250 mL and FMX-20(TM) 2000 mL foam soap dispensers.
Original Press Release
GOJO® E2 Foam Sanitizing Soap Supports Hand Hygiene Compliance, HACCP
Press release date: October 22, 2003
Soft, rich lather is fragrance-free, effective against germs

October 22, 2003 (AKRON, OH) - GOJO Industries introduces a one-step handwashing and sanitizing soap for the food processing industry. GOJO® E2 Foam Sanitizing Soap helps support compliance with good hand hygiene practices, and is registered with the NSF for use in USDA-regulated food processing environments.

The soft, fragrance-free cleansing formula can be used as a core element of any Hazard Analysis and Critical Control Point Program (HACCP) and effectively removes germs, animal fats and oils without irritating skin.

GOJO® E2 Foam Sanitizing Soap can also save money. "The thicker foam formula is cost-effective compared to liquid soaps," said Gary Santavicca, PMG Product Manager at GOJO. "Air is infused into the soap as it is dispensed, creating both a high-capacity system and a rich, luxurious lather. Just one push delivers a generous portion of this effective foam formula."

The new product is available in two convenient refill sizes to fit GOJO FMX-12(TM) (1250 mL) and FMX-20(TM) (2000 mL) foam soap dispensers.

GOJO Industries manufactures PURELL®, PROVON® and GOJO® brand professional skin care products and has a 57-year history of leadership in improving well being through hand hygiene and healthy skin. GOJO has products and programs to help solve skin care-related problems in a variety of markets, including healthcare, foodservice, manufacturing, automotive, education and government. A privately held corporation headquartered in Akron, Ohio, GOJO has offices in the United Kingdom, Japan and Brazil. For more information, contact GOJO Industries at (800) 321-9647 or visit gojo.com. GOJO Industries Inc 330-255-6697