Product News: Machinery & Machining Tools
Handle Applicator accommodates multi packs and single bottles.
Press Release Summary: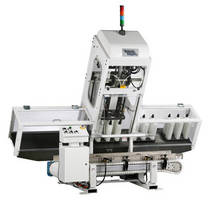 October 23, 2012 - Intended for packaging lines producing multi packs for club stores and single bottles for convenience outlets, Inline Intermittent Motion Applicator offers one-step handle application and separation that ensures throughput of 20 cases/min (cpm). This 2-in-1 machine applies 100% recyclable HDPE No. 2 handles and offers rapid changeover capability between multi pack and single handle operation. Magazine capacity lets machine run for up to 45 min typ without handle-loading intervention.

Original Press Release
Roberts PolyPro Develops Two Machines in One - an Innovative Handle Applicator for Multi Packs and Single Bottles
Press release date: October 17, 2012
For packaging lines producing both multi packs for club stores and single bottles for convenience outlets, the new Roberts PolyPro solution delivers maximum return on investment and a competitive edge.
(Roberts PolyPro Pack Expo 2012 Booth #3916)
Charlotte, NC — Roberts PolyPro, powered by Pro Mach, will introduce a bottle handle applicator that produces multi packs and single handles at a rate of 20 cases per minute at Pack Expo 2012. This new two-in-one machine decreases capital investment and provides maximum flexibility. Packagers with the same primary container can serve both club stores and convenience outlets from the same packaging line. The Inline Intermittent Motion Applicator is aimed primarily at applying handles to larger bottles, for example, those used for water in the U.S. and edible oils in Latin America. (Roberts PolyPro Pack Expo 2012 Booth #3916)
An innovative new handle separation device makes these improvements possible. When in single bottle mode, the new machine applies twin pack handles and in the same motion separates them, creating two single bottle handles. This process can be done by case or through groups of bottles in an inline environment. One-step handle application and separation ensures throughput of the equivalent of 20 cases per minute regardless of whether twin packs or single bottle handles are run.
Roberts PolyPro engineered a rapid changeover capability for the new two-in-one machine between multi pack and single handle operation. Customers have the option of ordering a machine that accepts cases or inline bottles. Roberts PolyPro bottle alignment technology ensures accurate placement of handles. The company reduced the number of parts used in the machine and streamlined control, compared to past offerings, to enable ease of use and ensure low maintenance. The machine requires minimal training to set up, operate, and maintain. This applicator can run an average of 45 minutes without handle-loading intervention due to a high capacity magazine.
"We've priced this new machine competitively," said Roy Tetreault, general manager, Roberts PolyPro. "When one considers moderate acquisition cost, the flexibility of two machines in one, the 20-case-per-minute throughput, the smaller footprint of one machine versus two, and Roberts PolyPro sustainable handles, there is no comparable solution available."
Inline Intermittent Motion Applicator contributes to sustainable packaging
The new machine applies 100 percent recyclable high density polyethylene (HDPE #2) handles. Roberts PolyPro is known for the sustainability improvements of these innovative handles. Roberts PolyPro's unique handle design and sheet extrusion process allows the company to manufacture bottle carrier handles that are up to 25 percent thinner than injection molded handles. Thinner handles deliver considerable savings in shipping and storage costs. Thinner handles also mean greater sustainability through material source reduction. Material reduction is a selling point with retailers such as Walmart, Sam's Club, Target, and Costco who pay significant attention to the sustainable packaging practices and offerings of suppliers.
Roberts Polypro handles are customizable, giving the packer the ability to distinguish product from the competition, another point of attraction for retailers. In the U.S. handles are a lifting and pouring convenience. In Latin American handles make carrying bottles home easier. Roberts PolyPro twin-pack handles have a consumer focused easy-tear feature for when the bottles arrive home and are separated.
View a video of the new Roberts PolyPro multi pack/single bottle HDPE handle applicator. For more information on the Intermittent Motion Applicator, call Roberts Polypro at 800-269-7409 and visit
www.RobertsPolyPro.com
for information on the company's latest solutions in plastic and paper handles and application equipment.
About Roberts PolyPro
Roberts PolyPro, Powered by Pro Mach, offers innovative product packaging solutions for consumer packaged goods and pharmaceutical companies. The company is a leader in manufacturing plastic and paper bottle carriers, box handles, pour spouts, j-hooks, and a complete line of standard and custom feeder and folder/gluer machinery. Roberts Polypro is based in Charlotte, N.C. Visit Roberts PolyPro at
www.RobertsPolyPro.com
.
About Pro Mach
Pro Mach, Cincinnati, Ohio, is a leading provider of integrated packaging products and solutions for food, beverage, household goods, pharmaceutical, and other diverse consumer and industrial companies. Through three business units and related divisions, Pro Mach provides equipment, training, installation, and parts in primary packaging, end-of-line packaging, and identification and tracking.
www.ProMachInc.com