Product News: Test & Measuring Instruments
Handheld XRF Spectrometer analyzes precious metals.
Press Release Summary: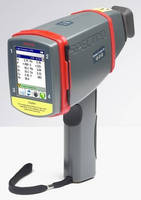 December 21, 2012 - With application package for precious metal analysis, SPECTRO xSORT can identify gold and silver content in jewelry alloys within seconds. Non-destructive measurement, conducted upon button actuation, makes portable instrument suitable for applications in archaeometallurgy. For precious metal recycling, unit offers security for buyer and seller by showing precious metal content to both parties. Optional integrated video camera can be used to precisely determine measuring point.
Spectro Analytical Instruments, Inc. - Mahwah, NJ
Original Press Release
SPECTRO xSORT Handheld XRF Spectrometer with New Application for Precious Metals
Press release date: December 18, 2012
• Inexpensive Instrument for Examination of Many Jewelry Alloys
• Non-destructive Analysis with a Vote of Confidence
• Examination of Precious Metal Archeological Objects as Secondary Application

KLEVE, GERMANY— SPECTRO Analytical Instruments, a unit of AMETEK, Inc., has equipped the SPECTRO xSORT handheld XRF spectrometer with a new application package for precious metal analysis. The inexpensive, portable instrument is able to identify the gold and silver content in many jewelry alloys within seconds. In addition, the XRF instrument's non-destructive measuring makes it suitable for  applications in archaeometallurgy. Operation of the instrument is simple; measurements are conducted at the press of a button.

For precious metal recycling, the handheld spectrometer offers security for both buyer as well as seller. The precious metal content of typical gold alloys can be determined well enough with traditional touchstone testing (acid test), but this procedure requires someone with experience – and the seller has to believe the collector.

"Our instrument, however, shows the precious metal content to both parties," emphasizes Dirk Wissmann, who is responsible for the XRF spectrometer product line at SPECTRO. "Best of all, the pieces of jewelry do not need to be ground and scratched for measurements with the XRF instrument. This is important if the value of a piece of jewelry is to be determined or if the jewelry is to be further marketed as second-hand jewelry and not  just be thrown into the recycling bin."

The SPECTRO xSORT also has an optional integrated video camera so the measuring point can be exactly determined.

Mobile Instrument Uses in Archaeometallurgy
An interesting secondary application for the portable SPECTRO xSORT is the scientific study of archaeological gold and silver treasures. A SPECTRO xSORT already has been used to examine antique objects found in Turkey. It is possible to reconstruct the manufacturing processes and to identify the period of time in which objects were created by investigating the precious metal contents and determining the by-elements. Because sometimes stylistically  different silver jewelry composed of similar materials are found at different locations, it is even possible to use the archaeometallurgical investigations to trace antique trade routes.

About SPECTRO:
SPECTRO is among the world leading suppliers of analytical instruments for optical emission and X-ray fluorescence spectrometry. As a unit of AMETEK's Materials Analysis Division, SPECTRO manufactures advanced instruments, develops the best solutions for strongly varying applications and provides exemplary customer service. SPECTRO's products are exemplified by unique technical capabilities that deliver measureable benefits to the customer.  From its foundation in 1979 until today, SPECTRO has delivered more than 30,000 analytical instruments to customers around the world.

AMETEK, Inc. is a leading global manufacturer of electronic instruments and electromechanical products with over 12,000 colleagues at more than 100 manufacturing locations and 100 sales and services centers worldwide.  AMETEK consists of two operating groups: Electronic Instruments and Electromechanical. Electronic Instruments is a leader in advanced instruments for the process, aerospace,  power and industrial markets. Electromechanical is a differentialted supplier of electric interconnects, specialty metals, floor care, specialty and technical motors and associated systems.

Please contact Tom Milner for additional information, Tel: +49 / 28 21 / 8 92-0, Fax: +49 / 28 21/ 8 92-22 00, E-Mail: spectro.info@ametek.com