Product News: Optics & Photonics
Handheld Device provides full spectral analysis of light.
Press Release Summary: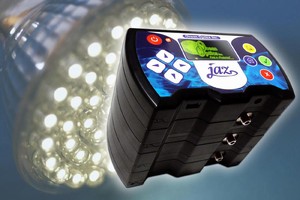 July 16, 2008 - Featuring CCD-array spectrometer and microprocessor with onboard display, Jaz enables handheld radiometric analysis of LEDs, flat panel displays, lamps, and other radiant sources. Modular optical-sensing instrument allows users to capture, process, and store full spectra without need for any PC. Spectral data can be transferred to laptop or desktop PC for additional post-acquisition processing, such as calculating color temperature, spectral intensity, and color space values.
Original Press Release
New Ocean Optics Light-Measurement Device Ideal for Convenient Analysis of LEDs, Lamps and Other Sources
Press release date: June 17, 2008
Unlike traditional light meters, Jaz provides full spectral analysis in a simple, handheld unit Dunedin, Florida (June 17, 2008) - The Jaz from Ocean Optics is a modular, handheld optical-sensing instrument now available for radiometric analysis of LEDs, flat panel displays, lamps and other radiant sources. With its small footprint and convenient onboard display, Jaz is ideal for relative intensity measurements of incandescent, high-intensity discharge, UV curing and fluorescent lamps, as well as low-power sources such as LEDs and OLEDs. Jaz is family of stackable, modular and autonomous components that share common electronics and communications. Included in the Jaz stack is a CCD-array spectrometer that can be optimized for a variety of radiometric measurements and a microprocessor with onboard display. Unlike traditional light meters, Jaz allows users to capture, process and store full spectra without the need for a PC. Spectral data can be transferred to a laptop or desktop PC for additional post-acquisition processing, such as calculating color temperature, spectral intensity and color space values. Jaz's Ethernet and battery modules offer unmatched portability. The Ethernet module has data storage capability via an SD card slot and allows users to connect to the Jaz unit via the Internet - making remote measurements such as solar irradiance possible and enabling the creation of networked sensing modules. The Lithium-Ion battery module is rechargeable in the field via a solar cell or in the QC lab using the Power over Ethernet connection (100 Mbps, IEEE 802.3-compliant 10/100 single-cable), the USB 2.0 port or an external power supply. The battery module also has a power-conserving sleep mode for long-term measurements and two additional SD card slots for storing data. "Jaz offers an attractive combination of spectral sensing power and handheld portability for all sorts of lighting measurements," says Mike Kayat, Ocean Optics Vice President of Sales & Marketing. "As energy savings and cost concerns help drive demand for more efficient LEDs and other types of lighting, the value of simple, convenient diagnostic instrumentation is magnified." The Jaz platform also expands to include light sources (VIS-NIR or LED) and additional spectrometer channels. Jaz can be connected to fiber optic sampling accessories such as integrating spheres (for collecting emission with a 360-degree Field of View), cosine correctors (collecting with 180-degree Field of View) and optical fibers. An add-on holster accessory makes the Jaz wearable, freeing your hands to manipulate sampling devices. For more information, phone 727-733-2447 or visit
www.OceanOptics.com
. Headquartered in Dunedin, Fla., Ocean Optics is a leading supplier of solutions for optical sensing - fundamental methods of measuring and interpreting the interaction of light with matter. The company's extensive line of complementary technologies including chemical sensors, analytical instrumentation, optical fibers, thin films and optics is used for diverse applications in medical and biological research, environmental monitoring, science education, process monitoring and entertainment lighting and display. Part of the global Halma group of safety and detection companies, with offices in Asia and Europe, Ocean Optics has sold more than 110,000 spectrometers worldwide since 1992. Company Contact Pamela F. Hennessy, Marketing Comm. Manager Ocean Optics, +1 727-733-2447 X238