Product News: Fluid & Gas Flow Equipment
Hand Operated Valves operate to 15,000 psi.
Press Release Summary: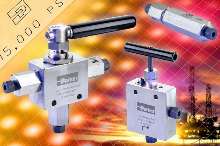 November 5, 2004 - Equipped with compression fitting end connections, MPI(TM) valves eliminate cone and thread installation and can be assembled by tightening one nut. Connections are also resistant to vibration. Valve range includes 2- and 3-way ball valves, 2-way needle valves in inline or angle configurations, check valves, relief valves, and options for 3- and 2-way pressure and stem connections. Pressures range from 10,000-15,000 psi, and tubing sizes from ¼-¾ in. OD.
Original Press Release
High Pressure Hand Valves Feature Novel Rapid-Assembly Compression Fitting Connections
Press release date: October 28, 2004
o valves operate to 15,000 PSI/1034 bar, yet eliminate time-consuming 'cone and thread' installation

Barnstaple, UK and Huntsville, AL, October 28, 2004 --- Parker Instrumentation has launched a large range of high-pressure hand valves that feature the company's innovative MPI(tm) end connections. Instead of offering traditional 'cone and thread' connections to tubing, the new valves - which include many options for operation at up to 15,000 PSI/1034 bar - come with familiar compression tube fitting ends.

These joints can be assembled in seconds by simply tightening a nut. Compared with installing a cone and thread connection, Parker conservatively estimates the savings at over 20 minutes per connection. The connections are also inherently resistant to vibration, eliminating the additional cost of the vibration gland that is commonly used with cone-and-thread fittings.

The new MPI valve range includes 2- and 3-way ball valves, 2-way needle valves in inline or angle configurations, check valves, relief valves, plus options for 3- and 2-way pressure and stem connections.

The range includes options for pressures from 10,000 to 15,000 PSI / 690 to 1034 bar, and tubing sizes from 1/4 to 3/4 inches outside diameter. Options with conventional NPT or cone and thread connections are also available. The range is supported by a comprehensive choice of MPI tube fittings and tube connection shapes including elbows, tees and crosses.

The new valves may be used on cold-drawn 1/8-inch hard (unannealed) 316 stainless steel tubing, or thick-walled (annealed) instrumentation-grade 316 tubing. The fittings also feature nuts coated with molybdenum disulphide, which provides a long-lasting lubricant to help prevent thread galling, and reduces the torque required to create the seal - easing both assembly and the remaking of joints.

"It can take 30 minutes or more to create the cone and thread required for high pressure fittings", says Steve Mullen, Parker's Product Marketing Manager. "MPI can cut assembly time to seconds, delivering major savings in installation costs, and allowing a common style of tube fittings to be applied plant-wide."

Among the application sectors that can benefit from this innovation are deepwater oil and gas drilling, and industrial laboratories where products are developed and tested under extreme conditions. Instrumentation engineers working in areas such as these can now assemble tubing systems in a tiny fraction of the time previously required. They also avoid the need for specialized training in installing traditional high pressure fittings, and the close attention to quality control procedures typically required during assembly.

MPI's ability to operate at much higher pressures comes from a combination of design factors. These include: new geometries for the ferrules which create a dual mechanical hold onto the tubing wall; the application of Parker's exclusive Suparcase hardening treatment to both of these ferrules for enhanced ability to bite into tubing; longer tube supporting areas within the fittings to enhance resistance to vibration and line loads; and the use of 'inverted' threads (swapping the sides on which male and female threads are used).

To illustrate the extreme assembly and installation time savings that are made possible by the MPI family, Parker has created a short video, which contrasts the assembly processes. It may be viewed via: http://parker.com/ipd/twomins.wmv

Parker Instrumentation provides tube fittings, valves, manifolds and enclosures for process and plant instrumentation in sectors including oil and gas, petro-chemical/chemical, alternate fuels, pulp and paper, and analytical/high purity. We offer our own-design products, as well as those from sister Parker divisions producing valves, fluid connectors, semiconductor products and regulators, valves and transducers. The organization is a division of Parker Hannifin - worldwide leader in motion, control and critical flow components and systems for instrumentation, industrial and aerospace markets. For more details please contact:

Andy Mallory Parker Instrumentation Riverside Road, Barnstaple, EX31 1NP UK Tel: +44 (0)1271 313131 Fax: +44 (0)1271 373636 ipd@parker.com

Parker Hannifin, Instrumentation Products Division 1005 A Cleaner Way, Huntsville, Alabama 35805-6708, USA Tel: 256 881-2040 Email: ipdsales@parker.com

MPI is a trademark of Parker Hannifin.