Product News: Machinery & Machining Tools
Hammer Driver-Drill combines speed, torque, and durability.
Press Release Summary: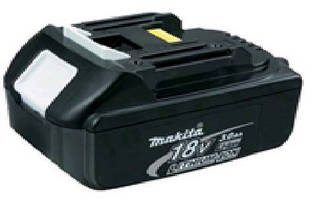 October 17, 2012 - Delivering max torque of 750 lb-in. and speeds to 30,000 bpm and 2,000 rpm, 18 V LXT® Li-Ion Cordless ½ in. Hammer Driver-Drill model LXPH03 features all-metal planetary gear system, 21 clutch settings, and all-metal ½ in. ratcheting chuck. This 8 7/8 in. long tool, which weighs 5.1 lb with battery, offers respective steel, wood, and masonry capacities of ½, 3, and 5/8 in. Internal seal channels water and dust away key internal components, and dual LED lights help illuminate work surface.
Original Press Release
New Makita 18V LXT Hammer Driver-Drill Delivers Speed, Durability, and Industry-Leading Torque
Press release date: October 9, 2012
LXPH03 has 750 in.lbs. of Max Torque, with exclusive XPT feature for increased water and dust resistance

La Mirada, Calif. – Makita, a worldwide manufacturer of technologically advanced power tools that are more compact with less weight yet deliver industrial strength power and results, has expanded its line-up of 18V Lithium-Ion cordless tools with the new 18V LXT Lithium-Ion Cordless " Hammer Driver-Drill, model LXPH03.

Industry-Leading Torque
The new LXPH03 delivers an industry-leading 750 in.lbs. of Max Torque and 18% more speed, yet it is more compact and weighs less than the previous model. The new LXPH03 is part of Makita's 18V cordless series, with 50+ cordless tools powered by one fast-charging 18V Lithium-Ion battery.

"Makita continues to be the market leader in 18 volt Lithium-Ion, and the new LXPH03 changes the game in the cordless drill category," said Mario Lopez, Makita Product Manager, Cordless Tools. "The new LXPH03 has the torque and speed that contractors demand. We also know that contractors often go to work in harsh conditions and the new LXPH03 is engineered for increased resistance to water and dust. For drilling and driving, Makita has delivered a total solution."

More Power and More Speed
The new LXPH03 is engineered with a Makita-built 4-pole motor that delivers an industry-leading 750 in.lbs. of Max Torque. It's also faster than the previous model with up to 30,000 BPM and 2,000 RPM. The new all-metal planetary gear system is more efficient so the LXPH03 is also more compact at only 8-7/8" long and 5.1 lbs. with battery.

Extreme Protection Technology (XPT)
The LXPH03 features Makita Extreme Protection Technology (XPT). XPT is a protective seal inside the tool engineered for improved water resistance by channelling water and dust away from the tool's key internal components. The XPT-equipped LXPH03 (as well as the earlier-released LXDT04 18V Impact Driver, which is also equipped with XPT) is engineered for improved operation in harsh jobsite conditions.

Ease-of-Use Features
Ease-of-use and efficiency features in the LXPH03 include 21 clutch settings for optimal fastening torque control, and an all-metal " ratcheting chuck for improved bit retention. The dual L.E.D. lights help illuminate the work surface, and the tool belt clip can attach to either side of the tool. The LXPH03 features a new rubberized grip redesigned for improved comfort, including an ergonomically-contoured area at the top-back of the handle to provide optimum fit for the U-shaped area between the user's thumb and index finger.

Makita 18V Lithium-Ion
The LXPH03 is the latest addition to Makita's 18V LXT platform. As the leading innovator in cordless tools, Makita created the 18V Lithium-Ion category in 2005. Today there are over 50 Makita 18V cordless tools powered by one 18V Lithium-Ion battery. Makita's groundbreaking 18V Lithium-Ion platform features the ENERGY STAR qualified Rapid Optimum Charger, which will charge an 18V LXT battery in only 30 minutes for more work and less downtime.

Engineered for full range of trades
The power, speed, durability and comfort features of the new LXPH03 make it ideal for all pro contractors who require a best-in-class tool for drilling, fastening, and hammer drilling applications.

Specifications

Model LXPH03 LXPH03Z
Description 18V LXT Lithium-Ion Cordless
" Hammer Driver-Drill Kit 18V LXT Lithium-Ion Cordless
" Hammer Driver-Drill (tool only)
Capacity:
Steel " "
Wood 3" 3"
Masonry 5/8" 5/8"
No Load Speed:
Low 0-400 RPM 0-400 RPM
High 0-2,000 RPM 0-2,000 RPM
Blows Per Minute:
Low 0-6,000 BPM 0-6,000 BPM
High 0-30,000 BPM 0-30,000 BPM
Max Torque (in.lbs.) 750 in.lbs. 750 in.lbs.
Battery 18V LXT Lithium-Ion 18V LXT Lithium-Ion
Overall Length 8-7/8" 8-7/8"
Net Weight 5.1 lbs.(with battery) 5.1 lbs.(with battery, sold separately)
Includes Tool, 2 ea. 18V LXT Lithium-Ion
Batteries, Rapid Optimum Charger,
Tool Belt Clip, Tool Case Tool only

Warranty
Makita Lithium-Ion tools are backed by Makita's 3-Year Warranty which covers repair due to defective materials or workmanship up to three years from the purchase date. 1-year warranty on the batteries and charger.

About Makita USA
Makita is a worldwide manufacturer of industrial quality power tools and offers a wide range of industrial accessories. Makita utilizes leading-edge technology and innovation to engineer tools that are more compact with less weight yet deliver industrial strength power and results. Makita's extensive line of cordless lithium-ion tools includes 18V LXT Lithium-Ion, 18V Compact Lithium-Ion, and 12V max Lithium-Ion. Other best-in-class products include rotary and demolition hammers and saws equipped with Anti-Vibration Technology (AVT), MM4 4-Cycle outdoor power equipment, Super Joint System (SJS) grinders, miter saws engineered with Deep and Exact Cutting Technology (DXT), and more. Makita U.S.A., Inc. is located in La Mirada, California, and operates an extensive distribution network located throughout the U.S. For more information, please call 800/4-MAKITA (800/462-5482) or visit the website at makitatools.com. You can follow Makita at facebook.com/makitatoolspage, twitter.com/makitatools, and youtube.com/makitapowertools. The Makita Teal color is the trade dress of Makita Corporation and is protected under common law and registered with the U.S. Patent and Trademark Office. Makita is Best in Class Engineering.