GVC1000 Graphics/Vision Computer features VisionWorks™.
Press Release Summary: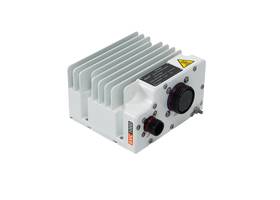 May 13, 2017 -
Designed with two 10 Gigabit Ethernet, two MilCAN/CAN ports and extended USB capability, GVC1000 Graphics/Vision Computer features internal storage of up to 32 GBytes of MLC and 128 GBytes of SLC SSD. Measuring 6 x 5 x 3 in. size and weight of around 5.5 lb, unit comes with ImageFlex image processing and visualization toolkit. Product is suitable for applications like vision computing, embedded training, 360° situational awareness and advanced digital mapping.
Original Press Release
Abaco Launches Mission Ready Graphics System with Industry-Leading Combination of 1+ TeraFLOPS Performance, Connectivity, Rapid Application Development Software
Press release date: May 10, 2017
Leverages high performance of NVIDIA Jetson TX2 module
Advanced connectivity enables simple integration into many environments
Small size, weight, power enable deployment in confined spaces
ImageFlex speeds development, reduces cost of advanced graphics applications
At GTC (the GPU Technology Conference: San Jose Convention Center) Abaco Systems today announced the GVC1000 rugged, high performance, small form factor mission ready graphics and vision system. Based on the recently-released NVIDIA® Jetson™ TX2 supercomputer on a module, the GVC1000 delivers a market-leading combination of 1+ TeraFLOPS of performance in graphics/video applications, flexible connectivity, minimal size, weight and power (SWaP) and an advanced graphics software development environment.
A complete, ready-to-run system, the GVC1000 allows customers to eliminate the challenges of integration and to focus immediately on application development - reducing risk, cost and time to deployment.
The GVC1000 features a unique range of connectivity options that reflect the operational realities of the applications for which it is designed. It provides two 10 Gigabit Ethernet ports for receiving multiple camera inputs; two MilCAN/CAN ports to receive vehicle data; and extended USB capability for maximum connection flexibility. It also features internal storage of up to 32 GBytes of MLC and 128 GBytes of SLC SSD to enable it to retain significant amounts of fast access mission- and moving map data.
Abaco's recently-announced ImageFlex image processing and visualization toolkit provides rapid application development for the GVC1000. It features a simple to use C API that provides an easy to use framework that can dramatically reduce both development cost and time required to develop high performance image processing and graphics applications with no impact on application performance. ImageFlex enables seamless interoperability with CUDA® and other libraries such as VisionWorks™, a software development package for computer vision (CV) and image processing.
The flexible design and small form factor of the GVC1000 make it appropriate for a wide range of military and commercial applications - particularly vision computing, embedded training, 360° situational awareness and advanced digital mapping, as well as data-intensive intelligence, surveillance, reconnaissance applications such as wide area persistent surveillance, hyperspectral sensor fusion, IED detection, synthetic aperture radar processing and more.
With dimensions of approximately 6 inches x 5 inches x 3 inches, and weighing around 5.5 pounds, the GVC1000 is designed to be deployed in applications such as the extremely confined spaces typical of a vehicle.
"The GVC1000's combination of extreme graphics performance, rugged reliability, minimal size and weight, extensive and flexible connectivity and powerful application development software is unique in the embedded computing industry," said Mrinal Iyengar, Vice President, Product Management at Abaco Systems. "It is the perfect response to the challenges our customers are facing."
To enable rapid application development and deployment, the GVC1000 is code-compatible with desktop environments such as CUDA and MATLAB®, allowing easy porting of applications and algorithms onto the deployable platform.
Product page https://www.abaco.com/products/gvc1000?cid=gvc1000_pr
Data Sheet https://www.abaco.com/download/gvc1000-product-datasheet?cid=gvc1000_pr
About Abaco Systems
With more than 30 years' experience, Abaco Systems is a global leader in open architecture computing and electronic systems for aerospace, defense and industrial applications. We deliver and support open modular solutions developed to upgrade and enhance the growing data, analytics, communications and sensor processing capabilities of our target applications. This, together with our 800+ professionals' unwavering focus on our customers' success, reduces program cost and risk, allows technology insertion with affordable readiness and enables platforms to successfully reach deployment sooner and with a lower total cost of ownership. With an active presence in hundreds of national asset platforms on land, sea and in the air, Abaco Systems is trusted where it matters most. www.abaco.com
For more information, Contact:
Ian McMurray
Communications Manager
Abaco Systems