Product News: Health, Medical and Dental Supplies & Equipment
Green Lasers suit surgical and X-ray alignment applications.
Press Release Summary: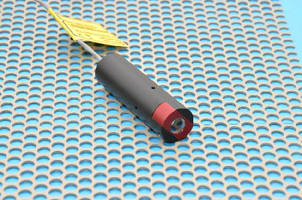 December 9, 2011 - Suitable for use on dark or pigmented skin, PNF Series Green Wavelength Spectrum Lasers deliver output power of 20 or 45 mW with wavelength of 515 nm. Units feature uniform intensity line generators, Variable Focus Technology, wavelength and optical stability, and CW or optional digital/analog modulation greater than 500 kHz.
Power Technology, Inc. - Little Rock, AR
Original Press Release
"Power Technology Announces New Green PNF Series Laser for Surgical and X-ray Alignment Applications"
Press release date: November 8, 2011
LITTLE ROCK, AR, - Power Technology, Inc., a leader in the Photonics Industry for over 40 years, announced today the availability of PNF Series green wavelength spectrum lasers suitable for surgical and X-ray alignment applications on dark or pigmented skin. Green lasers are much more visible to the human eye against dark or pigmented skin than traditional red wavelength surgical lasers. In fact, PNF green wavelength line-generator lasers are much easier to identify under the extremely bright light conditions of the operating room. Walter Burgess, VP of Sales and Engineering. "We are excited about our newest offering, the Green PNF Series which can deliver an output power of either 20mW or 45mW with a wavelength of 515nm. This new offering further increases the available choices of green wavelength structured light lasers designed for medical and surgical applications." Mr. Burgess went on to say, "Additional design features include uniform intensity (non-Gaussian) line generators, unique Variable Focus Technology, high wavelength stability, high optical power stability, and CW or optional digital/analog modulation >500kHz." For information on PTI's new PNF Green laser diode modules, contact our professional Sales Engineers today at sales@powertechnology.com or via phone at either (501) 850-4578 or (501) 407-0712. Power Technology, Inc., established in 1969, designs, manufactures, and distributes laser diode products for Fortune 500 and other companies which include OEM analytical, biomedical, industrial, semiconductor inspection, defense & security and machine vision applications. Products include laser diode modules with wavelengths from 263nm to 13,900nm that span the UV, Blue, Green, Red and Infrared range, temperature stabilized modules, lasers with beam circularization, and CW, pulsed, and modulated lasers. PTI also represents Sanyo and Opnext (formerly Hitachi) laser diodes as a factory authorized distributor. For more information contact:
Charles Prudhomme, Marketing
Email: cprudhomme@powertechnology.com Power Technology can be found on:
Facebook: http://www.facebook.com/home.php?#!/pages/Power-Technology-Inc/207100364328
LinkedIn: http://www.linkedin.com/company/power-technology-inc.
Twitter: http://twitter.com/#!/OEMLASERS