Grease Gun is battery powered.
Press Release Summary: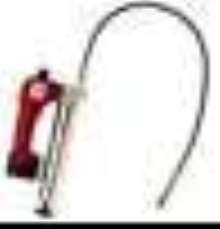 October 21, 2004 - Cordless model 585 can develop 10,000 psi for unclogging problem fittings. It incorporates 14.4 V motor with thermal protector and optimized airflow for extended motor life. Ergonomic design, balanced feel, and optional carrying strap facilitate lubrication process and reduce physical strain on operator. Unit comes with flexible, 3 ft long hose, which aids in lubricating stubborn parts.
Original Press Release
Alemite Introduces First 14.4-Volt Battery Powered Grease Gun
Press release date: October 14, 2004
Charlotte, N.C. - (Oct. 14, 2004) - Alemite recently introduced the industry's first 14.4-volt battery powered grease gun, the model 585. The new gun provides up to 50 percent more run time and better pressure ratings than any other cordless grease guns in the world. The 585 gun is also able to develop 10,000 PSI for unclogging those problem fittings.
The 585 cordless grease gun delivers more power, better quality and durability than the competition's 12-volt grease gun. Compared to the 12-volt guns, which can deliver up to three cartridges of grease, one fully charged battery in Alemite's 585 14.4-volt gun can deliver up to 10 cartridges of grease. This means that operators can make fewer trips to the garage or maintenance area to recharge the gun.
"Battery powered grease guns are quickly becoming the lubrication tool of choice," says Richard Sharpless, Product Manager for Grease Guns and Accessories. "When we introduced the 575 model last year, the response was overwhelming. As Alemite demonstrated with that introduction, we're committed to finding ways to help technicians and mechanics improve their day-to-day productivity. Now, with the introduction of the 585 model, we've raised the bar of innovation again."
Alemite's ergonomic design, balanced feel and optional carrying strap make lubrication easier and reduce physical strain. The 14.4-volt motor is equipped with a thermal protector and has optimized airflow, which extends the life of the motor. The gun also has an ultra-flexible 3-foot long hose, which helps make lubricating even the most stubborn parts effortless.
Alemite was established in 1919 and is a leading worldwide provider of lubrication and fluid handling equipment, including pumps, reels, grease fittings, grease guns, accessories and automatic lubrication devices. Headquartered in Charlotte, N.C., Alemite maintains a worldwide sales force and network of distributors. The company's ongoing goal is to serve customer needs by providing high quality products that have high value and utility, with excellent service and support, while maintaining the highest level of integrity.
For more information about Alemite or the Model 585 - or to place an order - contact Alemite Corporation in the U.S. and Canada at 1-866-4-Alemite (1-866-425-36483) or fax to 1-800-648-3917. Information is also available on the Web site, located at
www.alemite.com
.
Contact:
Timothy Long, Alemite Corporation
704/542-6900, Ext. 6259
timothy.long@alemite.com
Mike Crisp, Jackson-Dawson
864/272-3027
mike.crisp@jdsouth.com