Product News: Laboratory and Research Supplies and Equipment
Glass Filter Dryer is designed for laboratory-scale use.
Press Release Summary: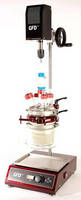 October 22, 2012 - Available with contained options, Glass Filter Dryer (GFD®) is intended for lab-scale filtration and drying and comes in 3 filtration area sizes: MINI LAB (0.002 m² - 0.5 L), LAB (0.01 m² - 2 L), and MAXI LAB (0.05 m² - 10 L). System works on vacuum and has heated jacket for drying. To accelerate drying while maintaining homogeneous product, adjustable agitator runs clockwise and anti-clockwise for smoothing cake. PSL removable filtration basket allows total product collection.
Powder Systems Ltd. (PSL) - Boise, ID
Original Press Release
Leading Lab Glass Filter Dryer Technology
Press release date: October 10, 2012
Lab scale filtration and drying made easy with Powder Systems Ltd's Glass Filter Dryer (GFD®) is now available with contained options.
The GFD® is a smaller version of a production filter dryer allowing easy lab scale filtration and drying with the same reliability and benefits as full size agitated nutsche filter dryers. This small scale filter dryer is suitable for any laboratories' needs and is available in three filtration area sizes: MINI LAB (0.002m² - 0.5L), LAB (0.01m² - 2L) and MAXI LAB (0.05m² - 10L). Its technology supersedes dated methods such as Buchner filtration providing ergonomic and efficient drying.
The GFD® works on a vacuum and has a heated jacket for drying. To achieve a quicker drying time whilst maintaining a homogeneous product, the GFD® has an adjustable agitator running both clockwise and anti-clockwise for smoothing the cake. The innovative PSL removable filtration basket allows total product collection, without having to dig the cake out of the vessel.
PSL, as a leader of glass filter dryer technology launched the GFD® 2 years ago and have continually improved the features of this revolutionary product. The new generation of Glass Filter Dryers benefit from new design features including a control/drive with RPM reading, O-ring groove in the glass body to ease fitting of the basket and a mechanical agitator height adjustment system. The latter allows adjusting without effort the agitator height in the slurry or cake in an accurate and repeatable manner thanks to the scale by simple turning the hand wheel.
Contained GFD® options: The Laboratory FilterBox Technology
The FilterBox is a new technology consisting of a GFD® being completely integrated within a PSL isolator, providing high containment when handling highly potent APIs and other highly active or cytotoxic compounds. The FilterBox achieves containment to nanogram levels protecting both the product and the operator during operations including charging, sampling, filtration, drying and discharging.
The GFD® FilterBox is an acrylic glovebox surrounding PSL's MINI LAB or LAB Glass Filter Dryer. Larger options include the MAXI LAB GFD® which can be incorporated within a full scale Isolator in stainless steel for Kilo Lab or Pilot Plant applications.
- Removable filter basket
- Improved yield
- Batch homogeneity
- Process visibility
- Reduced product exposure
- Easy cleaning
- Minimum process disruption
PSL press contact:
Camille Flores – camille.flores@powdersystems.com – +44 (0)151 448 7741
Company information:
Powder Systems Limited
+44 (0)151 448 7700
www.powdersystems.com
info@powdersystems.com
About PSL
Powder Systems Ltd (PSL) is an international manufacturer of filtration, drying and high containment isolator solutions for pharmaceutical, biopharmaceutical, chemical and laboratory industries. PSL has been established for 23 years and is an original pioneer of high containment systems such as isolators and gloveboxes. We have significant experience designing and engineering advanced containment processes for highly potent and valuable products including sterile, oncology, hormone and many other pharmaceutical compounds. PSL provides a full range of filtration, drying and contained isolator products for small scale production to full process systems. Our products enable major blue-chip companies including the top 10 pharmaceutical organisations such as Pfizer, GSK, BMS and Sanofi Aventis to bring new generation drugs into the market place faster, using the latest technology in containment and production equipment.