Product News: Computer Hardware & Peripherals
General-Purpose Coding Ink dries in 1-2 seconds.
Press Release Summary: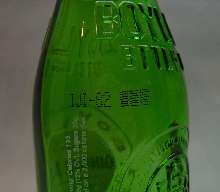 January 16, 2004 - Black, ketone-based, IJI 82 performs on non-porous substrates including glass, plastic, metal, and coated paper stock. It offers direct replacement for Videojet 16-8200 ink developed to operate in Videojet printer models VJII, VJIII, EXCEL 100, 170i, 178i, and 37 series. IJI 82 can be piggybacked directly into printer without flushing. It is suited for applications that require fast dry time and water resistance.
Original Press Release
InkJet, Inc. Introduces New 82 Ink for Coding and Marking
Press release date: January 12, 2004
January 12, 2004 - InkJet, Inc., the leading supplier of low cost, high quality inks and replacement parts to the coding and marking industry, introduces new 82 ink, a black ketone-based general purpose ink with a fast dry time. The 82 ink from InkJet, Inc. (IJI) costs 20 to 30% less than the comparable OEM fluid and offers superior performance that maximizes the quality of the printed package or material. IJI 82 ink is a direct replacement for Videojet 16-8200 ink developed to operate in Videojet printer models VJII, VJIII, EXCEL 100, 170i, 178i and 37 series. Requiring no special changeover procedure, IJI 82 ink can be piggybacked directly into the printer without flushing. Compared to the OEM fluid, IJI 82 ink offers a slightly faster dry time and darker print on most substrates. IJI 82 ink typically dries in one to two seconds depending on the substrate and the environment, making it ideal for coding applications that require a fast dry or water resistance. IJI 82 ink performs well on a wide variety of non-porous substrates including glass, plastic, metal and coated paper stock. With excellent adhesion to glass, IJI 82 ink is an ideal choice for use on returnable glass bottles where easy code removal during the bottle cleaning process is required. Like all fluids formulated by IJI, 82 ink is manufactured to specifications that allow the product to perform as good as or better than the OEM fluids. With guaranteed performance and substantially reduced price points, IJI's new ink offers users real value. About InkJet, Inc. InkJet, Inc., founded in 1990, provides high-quality, competitively priced inkjet printing inks, fluids, parts and technical support to the global coding and marking industry. In a segment dominated by OEMs such as Videojet, Imaje and Domino, InkJet, Inc. has proven that quality, price and service delivers superior value; the company has carved out annual sales of more than $10 million. Its corporate office and recently expanded research, manufacturing and warehouse facilities share a 26-acre site in Willis, Texas. Through its extensive sales network, InkJet, Inc. serves more than 3000 customers in the healthcare, pharmaceutical, mechanical, automotive, food, beverage, cosmetic and other industries in more than 50 countries. Reader Inquiries: Bob Tarragano, Director Sales and Marketing InkJet, Inc. 2730 Greenleaf Elk Grove Village, IL 60007 USA Tel: 847.956.7332 Fax: 847.956.7329 Email: bob.tarragano@inkjetinc.com URL:
www.inkjetinc.com