Product News: Cleaning Products & Equipment
Gel Hand Cleaner is available in refillable dispenser.
Press Release Summary: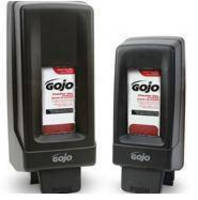 June 1, 2010 - GOJO Cherry Gel Pumice Hand Cleaner features pumice scrubbers that clean heavy dirt, grease, and oil. It also includes skin conditioners and is pH-balanced for skin comfort. Available in GOJO PRO Series dispensing system, gel formula spreads evenly and clings to hands and arms so it doesn't wash down drain. Dispenser uses SANITARY SEALED(TM) refills with valve that prevents leaks and clogs.
Original Press Release
GOJO® Cherry Gel Available in GOJO PRO(TM) Series Dispensing System
Press release date: February 8, 2010
The power of GOJO Cherry Gel Pumice Hand Cleaner is now available through the robust GOJO PRO Series Dispensing System.
Unlike open refillable bulk soap dispensers that can break easily and can become contaminated, the GOJO PRO Series is a heavy-duty system with SANITARY SEALED(TM) refills to help ensure that the soap is safe from contamination. A recent study by the University of Arizona showed that 25% of refillable bulk soap reservoir systems contained potentially harmful bacteria.(1)
In addition, a fresh valve with each refill helps ensure against leaks and clogs. The GOJO PRO Series Dispensing System provides portion control dispensing that helps reduce waste.
Refreshing GOJO Cherry Gel with pumice scrubbers quickly cleans heavy dirt, grease and oil. Unlike traditional hand cleaners, the innovative gel formula spreads evenly and clings to hands and arms so it's not washed down the drain. It contains a unique combination of skin conditioners and is pH balanced for skin comfort.
GOJO is America's #1 heavy duty hand cleaner.(2) According to GOJO Automotive Market Vice President Steve Pruett, "The hand cleaner and dispensing system you provide is a statement of your commitment to employee satisfaction, health and well-being. GOJO continues to provide superior products that improve the health and well-being of technicians."
For more information on new GOJO Cherry Gel Pumice Hand Cleaner, visit
www.gojo.com/automotive
or call the GOJO Customer Interaction Center at 1-800-321-9647.
GOJO Industries, inventors of PURELL® Instant Hand Sanitizer, distributes PURELL in away-from-home markets throughout the world. In addition, GOJO manufactures and distributes a full line of products under the GOJO and PROVON® brand names. GOJO has a 64-year history of leadership in improving hands and solve skin care-related problems in a variety of markets, including healthcare, foodservice, food processing, manufacturing, automotive, education, government and military. GOJO is a privately held corporation headquartered in Akron, Ohio, with offices in the United Kingdom, Japan and Brazil.
PURELL is a trademark of Johnson & Johnson and is used under license.
1. Gerba, C.P. et al, The Occurence of Heterotrophic Bacteria, Coliforms, and Staphylococcus Aureus in Liquid Soap Sample from Public Restrooms. Unpublished Study 2006. Bacterial contamination of Liquid Hand Soaps. Unpublished Study 2007. University of Arizona.
2. Aftermarket Business Installer Survey, 2003.