Gas Welding Hose Reel improves workspace safety, hose life.
Press Release Summary: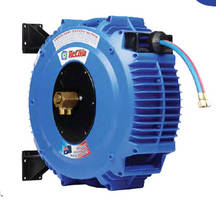 October 25, 2012 - Gen III OA, OP, P, and A Series increase safety levels for maintenance teams by eliminating potential fire risk posed by hoses wrapped around bottles or trolleys. In addition to spring rewind latching system, reels feature impact- and corrosion-resistant outer shell encasing 8 or 15 m of 6 mm ID twin oxygen and acetylene or oxygen and propane hose. External swivel design provides added safety. Models to suit Propane and Argon are also available with 15 or 20 m of hose.
Original Press Release
Safer Gas Welding Reel for Maintenance Teams in Mining, Construction, Engineering and Public Works
Press release date: October 18, 2012
ReCoila has developed a reel for gas welding that will increase safety levels for maintenance teams, in particular those operating in industries including mining, construction, engineering and public works.
When gas welding hoses are stored by wrapping them around bottles or trolleys it can create a potential fire risk, but by using ReCoila's Gen III OA, OP, P and A Series hose reels a safer operating environment is created and the lifespan of hoses is greatly extended.
Gen III Series is an ideal compact solution for gas welding, cutting and shielding processes. The units have a unique spring rewind latching system, a tough impact and corrosion resistant outer shell encasing either 8 or 15 metres of 6mm ID twin oxygen & acetylene or oxygen & propane hose.
A unique external swivel design on the oxygen and fuel gas reels provides added safety and ease of O ring replacement. Models to suit Propane and Argon are also available with 15 or 20m of hose.
The reels come with UNF fittings as standard, with BSP, JIS, and other thread sizes available on request. Hose design specifications are available to meet international standards such as EN599.
All fuel and Oxygen gas swivels are leak tested at 1.4psi low pressure test and 140psi high pressure test. Hose options are single and twin 6mm and 10mm.
ReCoila Gen III reels have a composite construction that is at world's best practice in design, functionality, reliability and innovative features.
ReCoila was one of the first in the world to develop and manufacture composite spring rewind reels and today we continue to be world leaders
Gen III reels are provided with up to a five year warranty, highest quality 'finished edge' spring steel strip, full flow swivels and fluid paths, positive crimp hose fittings and an all position positive latching system.
They are tough, impact, corrosion resistant and UV stabilised polypropylene with anti static and flame retardants and a unique ratchet tensioning system.
They also have a heavy duty wall mounting swivel system, replaceable protective mouth guard, large side covers for easy access in servicing and maintenance routines, unique service locking pin port for added safety, a two part fully adjustable bumper, detailed operation and service manual and an easy-mount drill hole pattern supplied.
For more information, please contact Mr Michael Pawson, Managing Director, ReCoila.
Unit 1/10 Melissa Place, Kings Park, NSW 2148
Email: mpawson@recoila.com.au
www.recoila.com
Written and prepared by Omentum Media Australia.
Val Pavlovic: 0413 869 589, mob: 0413 869 589. email: admin@omentum.com.au